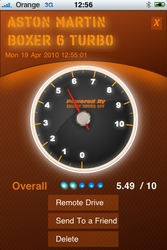 Car enthusiasts believe that their engine produces 'music' and they can describe that music proudly. With Engine Sound Off! there is now a scientific, but very fun way to simulate, score, and compare your cars' unique engine soundtrack.
(PRWEB) May 5, 2010
AppKitchen, a collective of developers and car fans based in New Zealand and the UK, proudly announces the launch of the Engine Sound Off! application for iPhone and iPod Touch.
Engine Sound Off! pioneers a new generation of driving simulator games. The players' individual car engine sound is uploaded seamlessly into the driving simulator, giving a more user-generated experience than ever before available. Engine Sound Off! also scores the uploaded engine sounds that the car fan can share and also compete online for prizes at http://www.enginesoundoff.com.
For car enthusiasts, the sound of an engine can literally make the hairs on the back of the neck stand up. All major car brands recognise this by tasking their engineers to fine-tune an engines tone and volume (most recently seen with the Ferrari 599 GTB). This passionate car enthusiast community is not small – a web search for 'sports car clubs' currently brings 55.3 million unique results.
Engine Sound Off! is for car fans looking for a fun, nuetral method to rate engine sounds, and simulate driving their actual car without turning a key. Engine Sound Off! can be downloaded from the App Store at http://itunes.apple.com/us/app/engine-sound-off/id368497633?mt=8

World First: 'Engine Sound Off!' instantly rates the Sound of any car engine.
Sound engineers were included at an early stage of development to assess the iPhone's recording capability and microphone sensitivity. "Each engine sings its own song based on its type and capacity. We found that using the standard mic we could assess any engine recorded against the expectations for that specific engine type, make and fuel type" Chris Young, Lead Sound Engineer.
World First: 'Engine Sound Off!' simulates driving any car engine.
Chris Baxter, Lead Developer, "In the real world the acceleration, RPM range and power delivery characteristics are quite different from car to car and if you look closely in the simulator you'll find that too. So the way the simulator drives, as well as sounds, should be familiar".
Engine Sound Off! is the only accelerometer based driving simulator that lets you accelerate, change gears and brake! The simulator has a lot of hidden touches, including using the gear shift sound from a Dodge Viper, and the menu button 'click' is actually the seat belt clicking sound from an Aston Martin Vantage.
Pricing and availability:
Engine Sound Off! is only $1.99 (USD) and available worldwide through the App Store in the Entertainment category. A competition is being run to celebrate the launch of Engine Sound Off! to be drawn 6 June. See http://www.enginesoundoff.com for more.
Media Assets:
Please visit http://www.enginesoundoff.com/downloads. Promo codes are available upon request. Let us know who you represent, and your deadline when making your request and we'll be in touch asap!
Features:

World's First app to record your engine sound and turn it into a driving simulator.
Calibrated for 50 car brands, including Ferrari, BMW and Chevrolet and 29 engine types from V8 to 4 cylinder turbo diesel.
Simulator features manual gear changing, braking, speedometer and tachometer display, and realistic rpm limits for your engine type.
In the simulator, tilt your iPhone forward to accelerate.
Highly sophisticated engineering techniques to rate the sound quality of any engine.
Includes a Decibel Meter with a display range of 0dB to 120dB.
Your recordings and ratings can be shared with your friends.
Free entry to the Global Grid online to compete against other players.
About App Kitchen:
App Kitchen takes fresh ideas, squeezes the best out of them, mixes them together and then serves up hot tasty applications! App Kitchen is based in Auckland, New Zealand and also Oxford, UK. AppKitchen typically works with a variety of consulting partners to make sure project standards are kept high.
App Kitchen Ltd.
0044-7972-719-073
Copyright (C) 2010 App Kitchen Ltd. All Rights Reserved. Apple, the Apple logo, iPhone and iPod are registered trademarks of Apple Inc. in the U.S. and/or other countries.
###