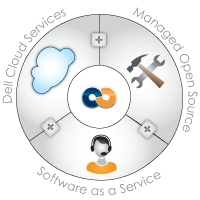 "There are still a lot of questions and misconceptions about open-source applications and we are able to address those with Moodlerooms' managed open-source platform combined with the scalability and security of the Dell Cloud." - Joe McAvoy
Baltimore, MD (PRWEB) May 4, 2010
Moodlerooms, Inc., trusted provider of managed open-source solutions wrapped around the world's most widely used open-source learning management system, Moodle, has today announced an upcoming four-part webinar series sponsored by Dell and Intel.
The Moodlerooms Seminar Series, which will launch on May 20 in partnership with 1105 Media, will cover a wide range of topics – from the benefits and best practices of managed open source, to product features and the roadmap of Moodlerooms' learning management platform, joule™, to the impact of online learning on the entire education community.
"We are excited to partner with Dell and Intel to provide a series of informative Web events to showcase Moodlerooms' next-generation, enterprise learning management platform," says Joe McAvoy, Vice President of Sales and Marketing at Moodlerooms. "There are still a lot of questions and misconceptions about open-source applications and we are able to address those with Moodlerooms' managed open-source platform combined with the scalability and security of the Dell Cloud."
The webinar schedule is currently set to deliver the following presentations:
The Perfect Learning Fit With Moodlerooms: Convergence of Cloud Hosting, Managed Open Source and Software-as-a-Service – May 20, 2010
Discuss best practices for hosting, managing and supporting open-source Moodle to decrease the risks of switching from proprietary solutions. Learn the benefits of using a SaaS provider like Moodlerooms to sustain open-source applications.
Extending the LMS Platform – July 29, 2010
Explore the unique features and benefits that Moodlerooms' adaptable and fully managed learning management platform, joule™, adds to its open-source Moodle core. Learn how this extensible platform allows organizations to add tested and approved community sourced features, third-party plug-ins and Moodlerooms-developed functionality to create the perfect, reliable platform to meet their needs.
joule 2.0 – October 12, 2010
Learn about the future of online learning as Moodlerooms unveils its next major release as well as upcoming joule features and developments and how they will help improve the education community.
Impacting the Education Community – November 11, 2010
Hear from a panel of industry experts and Moodlerooms customers as they discuss their online learning experiences and how their switch to managed open source has impacted their entire learning community.
For updates about the Moodlerooms Seminar Series, please visit http://www.moodlerooms.com/community/webinars.
About Moodlerooms, Inc. (http://www.moodlerooms.com):
Moodlerooms is the trusted education solutions provider that delivers learning management that evolves around the unique needs of our customers. Our next-generation learning management platform, joule, combines customer care, state-of-the-industry technologies and open-source Moodle in a secure and scalable environment so our customers' learning communities can confidently focus on quality teaching and learning.
About Dell (http://www.dell.com):
Dell is a premier provider of computer products and services upon which colleges and universities can build their information technology and Internet infrastructures. Dell listens to higher education customers and delivers what they value: comprehensive solutions that can help meet educational and research goals. Dell designs, manufactures and customizes product and services to customer requirements, and offers an extensive selection of software and peripherals. For more information, visit, http://www.dell.com/hied to get Dell news direct, visit http://www.dell.com/RSS.
About Intel (http://www.intel.com):
Intel (NASDAQ: INTC), the world leader in silicon innovation, develops technologies, products and initiatives to continually advance how people work and live. Additional information about Intel is available at http://www.intel.com/pressroom and blogs.intel.com.
###