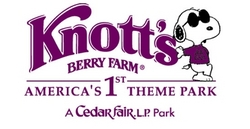 Snoopy's 60th Birthday Party
Buena Park, Calif. (Vocus) May 5, 2010
To celebrate the Peanuts 60th Anniversary, Knott's Berry Farm will debut a new nighttime light show that showcases the Peanuts Gang and reminds us why our heart still belongs to good ol' Charlie Brown.
Starting May 29, when darkness falls over Knott's Berry Farm, Camp Snoopy will come alive with a continuous light show filled with Peanuts' three dimensional figures, themed music, sound effects, voice-overs and colorful projections of the Peanuts' characters. In "Snoopy's Starlight Spectacular" guests will see their favorite characters in scenes that personify them – Lucy's dream of being a Hollywood starlet, Schroeder's musical genius, even Woodstock gets into the act as he and Snoopy go on a camping adventure.
"Snoopy's Starlight Spectacular" will run every evening the park is open after 8:00 p.m.
Over at the Charles M. Schulz Theatre, Knott's Berry Farm is proud to present "Everyone Loves Snoopy" (dark Wednesdays) an exciting ice show debuting June 19. In this musical extravaganza you will fall in love with the Peanuts Gang all over again as Snoopy takes center stage along with world-class ice skaters in a show that will delight the entire family. Catchy tunes, elaborate costumes, special effects and show-stopping choreography make this production a not-to-miss experience.
Starting in August, Knott's is proud to welcome Rock Band® Live to the Knott's Boardwalk area. This one-of-a-kind multimedia experience combines the thrill of a stage show with live music that is guaranteed to rock! Guests will have an all-access pass to the hottest new show with the most triumphant rockers at the park's Rock Band® gaming kiosks being chosen to participate in the show each and every day. Rock Band® Live runs August 5-8 and 10-15.
For the younger set, "Hooray for Hollywood" tells the story of the Peanuts Gang as they try to make it big in Tinseltown. This live musical review in the Camp Snoopy Theatre features the Peanuts Gang along with their friend JT in a show that's sure to delight kids of all ages. Kids will also enjoy "Snoopy's 60th Birthday Party" which will be held daily in Camp Snoopy August 1-8 in honor of the Peanuts 60th Anniversary. Kids ages 3-11 will enjoy a free chocolate chip cookie (Snoopy's favorite food!), sign a giant birthday card for the Peanuts gang and can even enter a coloring contest.
Knott's is also proud to announce an exciting new summer concert series featuring the music of some of the most celebrated groups and solo artists of all times. This line-up promises something for everyone starting with Raymond Michael as "Elvis" June 19, 20, July 3, 4 and August 7, 8, 14, 15. For all the Beatles fans, Knott's will offer not one, but two, tribute bands "Abbey Road - A Tribute to the Beatles" will perform July 10, 11, and 18 and "BeatleMania Live!" will be performing July 24, 25, 31 and August 1, 21, 22, 28 & 29. And celebrating the last weeks of summer "Surfin's Safari" will pay tribute to Brian Wilson and the Beach Boys.
At twilight the Calico Square Stage becomes the place to learn the latest dances such as the "Boot Scootin' Boogie" (selected dates) with Knott's line dancing aficionados, J.T. and Dusty.
The summer really heats up with "Fiesta Folklorico." Guests in Fiesta Village will be treated to beautifully costumed dancers as they present culturally-rich performances filled with intricate choreography.
Weekends were made for BBQs and Knott's is firing up the grill every Saturday and Sunday through September 6. For just $39.99 for Regular, $29.99 for Juniors and Seniors (62+), guests receive admission into Knott's Berry Farm as well as an All-You-Can-Eat BBQ served from 11:30 am to 2:30 pm. Guests can save even more with a coupon from knotts.com.
One of the best reasons to visit Knott's Berry Farm during the summer is that Knott's is open late, and guests can get in after 4 p.m. for only $26.99 for Regular admission and $23.99 for Juniors (3-11) and Seniors (62 years and older). All-day tickets to Knott's Berry Farm are $53.99 for Regular admission and $23.99 for Juniors (ages 3-11) and Seniors (62+). Children under three are free. Discount tickets to Knott's will be available at Ralphs stores starting June 9 through September 6 and are valid through October 31 (excludes Knott's Halloween Haunt).
Just across the street from Knott's Berry Farm, Knott's Soak City is ready for another fun-filled season. Cool off in Tidal Wave Bay or take a ride on Pacific Spin, Soak City's newest ride. Pacific Spin riders are blasted down into a 132-foot long tunnel, then drop a stomach-churning 63 feet into the mouth of a six story funnel. This thrilling escapade culminates in a waterfall splash that deposits riders into a cool catch pool. Tickets to Knott's Soak City Regular admission is $31.00, Juniors (3-11) and Seniors are just $19.99.
Knott's Soak City Orange County will be open May 22 and 23, then daily May 29 through September 6, then weekends only September 11 through 19.
Knott's Soak City San Diego will be open May 22 and 23, then daily May 29 through September 6, then weekends only September 11 through 26.
Knott's Soak City Palm Springs is open weekends now until May 27 when it will be open daily through Labor Day and then weekends through September 26.
For hours on the day you plan to visit call (714) 220-5200 or check the Knott's Berry Farm website at http://www.knotts.com, where you can also save time and money with Knott's Print@Home tickets.
Michele Wischmeyer
Jennifer Blazey
(714) 220-5130
###