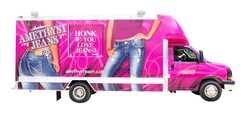 "We're excited to once again partner with the Vans Warped Tour and hang out with our teenage audience this summer. The Jean Machine has been a great way for us to get out there and have fun while gathering feedback on the Amethyst Jeans brand."
West Hartford, Conn. (PRWEB) May 4, 2010
Amethyst Jeans has announced the return of its Jean Machine touring with the 2010 Vans Warped Tour this summer, giving away over 18,000 free pairs of limited edition jeans to lucky attendees as part of its back-to-school marketing campaign.
Amethyst Jeans kicked off its Jean Machine tour in their custom-made, bright pink, 25-foot promotional truck last summer, touring alongside the Vans Warped Tour and other summer concerts and events at various locations throughout the east coast and Midwest. For 2010, Amethyst Jeans has expanded its tour to 26 dates with the Vans Warped Tour beginning July 1st in San Antonio, Texas, and ending August 1st in Minneapolis, Minnesota.
"We're excited to once again partner with the Vans Warped Tour and hang out with our teenage audience this summer. The Jean Machine has been a great way for us to get out there and have fun while gathering feedback on the Amethyst Jeans brand," said Managing Director Ned Davidson. "We feel it is so important to spend time understanding what makes this demographic tick. We have found there are three common denominators: friends, music, and fashion. Warped Tour provides the music, the kids come with their friends, and we supply the jeans."
Each day, 600 lucky Vans Warped Tour attendees, as well as Amethyst Jeans Facebook giveaway winners, will receive Amethyst Jeans and Tee-shirts made exclusively for the Vans Warped Tour 2010. Additionally, some of Vans Warped Tour's hottest bands will be doing daily signings and taking fan photos at Amethyst's Jean Machine.
You can follow the Jean Machine's every move on Amethyst Jeans' Facebook and Twitter links as well as get the latest in Amethyst Jeans news, free jean giveaways and denim trends.
In conjunction with their back-to-school campaign, Amethyst Jeans will maintain its huge online presence, incorporating Facebook and Twitter so Amethyst's fans can participate in numerous events and contests. The brand will also be advertising with popular teen magazines, Girls' Life, J-14, Twist and QuizFest during the months of August, September and October and will be featuring exclusive online contests, giveaways and promotions with the publications as well.
About Amethyst Jeans
Amethyst Jeans was conceived by industry retail veterans, Ned Davidson and John McKelvey, managing directors/business partners and was launched in fall 2007. On the heels of a very impressive 2009 Amethyst Jeans is delivering another strong showing in 2010 with bookings up over 70% at both wholesale and retail in the first six months.
The keys to the success of Amethyst Jeans is offering premium denim with exceptional quality, great fits and unique washes at an affordable price for the junior and junior plus customer. The modern, 5-pocket denim brand has committed to providing quality denim at the moderate price points of $25 to $48.
For more information about Amethyst Jeans, please visit http://www.amethystjeans.com or contact Shout Public Relations at 949.574.1440.
###