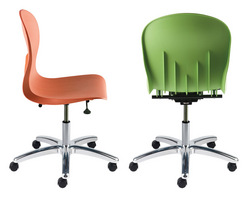 "The KX Polyshell supports our focus on providing highly functional, healthful and aesthetically pleasing products that architects and designers can specify for virtually any environment …"
Bowling Green, OH (PRWEB) May 5, 2010
BioFit Engineered Products , an Ohio-based manufacturer and long-standing leader in the development of ergonomic furnishing solutions, announced today its newest seating line was named a 2010 Platinum winner in Design Journal's Awards for Design Excellence (ADEX) competition. The company's KX Polyshell series chair was chosen as an edgy, yet practical alternative to conventional multipurpose seating, combining color and contour with ergonomic performance and LEED® compliance.
"BioFit is extremely proud to be selected for the highest ADEX honor. The KX Polyshell series is a continuance of our commitment to delivering durable, stylish and affordable seating that works in as many environments as possible," stated BioFit Director of Marketing Liz Sworden. She explained: "With the KX, we combined ergonomic design and control with proven engineering and a fun color palette to meet demand for more attractive multipurpose seating that also accommodates larger body types."
Suitable for hospitals, offices, schools and a range of institutional settings, the KX Polyshell chairs feature rugged one-piece shell construction, a waterfall front and flexible backrest, six standard luminous shell colors, and numerous caster, base, color and performance options. All models of the roomy 18-inch wide chair are LEED® compliant for use in commercial interiors and are backed by a 13-year warranty.
Sworden said BioFit is proud to add another new seating line that not only competes with offerings of better known manufacturers ergonomically, but stylistically as well. "The KX Polyshell supports our focus on providing highly functional, healthful and aesthetically pleasing products that architects and designers can specify for virtually any environment," she concluded.
Located in Bowling Green, Ohio, BioFit Engineered Products is a leading manufacturer and global provider of LEED-compliant ergonomic seating, GREENGUARD-certified cafeteria and mobile tables, carts and specialty products for educational, office, laboratory, industrial, bio- and high-tech, healthcare, hospitality, and custom environments.
###