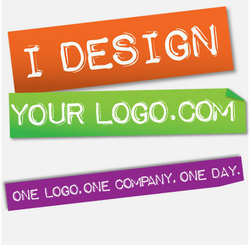 Using social media, we're creating an entertainment company of sorts, where our audience participates in the action. It's branded content at it's finest.
Saint Michael, MN (PRWEB) May 5, 2010
Have you ever heard of a company that set out to design 365 logos in as many days? Well, now you have. IDesignYourLogo.com is a team of three advertising/marketing veterans, who have created a socially-focused logo design firm with a very simple model: one logo, one company, one day. What's interesting is that the price for each day increases by only $2. They started they year on March 1st, 2010 at $2 and will end the year on February 28th, 2011 at $730.
This pricing model may sound familiar to you. One of the three co-founders is none other than Jason Sadler, who, just two years ago, started a business called IWearYourShirt.com. Jason has revolutionized a new concept in advertising, by selling a business the opportunity for massive exposure through social media by simply wearing their shirt. He started his year by charging only $1, increasing each day following by only $1 more. Before the middle of his first year, every day was sold and he's on track to do it again in 2010.
Using the escalating pricing model has allowed small businesses that opportunity to receive a professionally-designed brand identity at a very affordable price. Co-founder, Dana Severson states, "Most of these companies would have never been able to afford the services we're offering under a standard design firms' business model. The pricing structure is such that, the companies that purchase the days in the latter part of the year, subsidize the cost of the cheaper days. That said, even our most expensive day ($730) is a good deal."
Not only does IDesignYourLogo.com help businesses with creating new identities, they're also helping them create social equity. They do this by starting each day with a blog post written about the business and their new logo. They then spend the rest of the day talking about the company and it's logo on Facebook and Twitter. The continual mentions on all three outlets, help to rank each business much higher on search-engine results.
Severson describes it as this, "IDesignYourLogo.com is built around having meaningful conversations with our clients and those who enjoy what we're doing. I mean, first and foremost we're providing a service. But, after that, it's about entertaining and engaging with an audience. We're taking a service-oriented business model and making it into a media company. Using social media, we're creating an entertainment company of sorts, where our audience participates in the action. It's branded content at it's finest."
Although IDesignYourLogo.com is still fairly new, they've already managed to make quite an impact in the small business community. In addition to businesses, they've also designed logos for a professional soccer player, race car driver and a feature film. This month they'll also be designing personal logos for two social-media superstars, Robert Scoble and Peter Shankman.
For more information about IDesignYourLogo.com, or to schedule an interview with any of the founders, email Dana Severson at dana(at)IDesignYourLogo(dot)com or visit http://www.IDesignYourLogo.com.
###