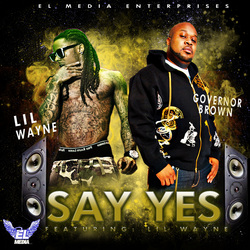 I wanted to introduce a new sound reminiscent of the early days of hip hop when beats popped and bodies naturally grooved to good music
New York, NY (PRWEB) May 11, 2010
El Media Enterprises is pleased to announce the release of Governor Brown 's new smash single featuring Lil Wayne, "Say Yes" (now available on MySpace, iTunes and other digital venues). The Harlem-bred rapper's latest single is just one of 16 tracks on his upcoming debut album, "The Campaign," slated for an early fall release.
Governor Brown's new album promises to remind people why they fell in love with hip hop. "I wanted to introduce a new sound reminiscent of the early days of hip hop when beats popped and bodies naturally grooved to good music," he says. The title tracks "Maniac" and "Luv You in the Morning" also remain faithful to the genre.
Governor Brown says he represents new change for the hip hop community. He is here to change how people view urban street music. "We are ready! All these old artists are pushing 50…they are recycled and refurbished. It's time for a change! Obama couldn't have said it better!"
Along with the upcoming release of his album this fall, Governor Brown will be touring this summer and will release several videos that will be featured on BET, MTV and online channels. His follow-up single, "I'm a G" (produced by Wiz Gambino) will be premiering on Urban Radio in the next couple of weeks.
To sample "Say Yes" and other music from Governor Brown, visit http://www.myspace.com/governorbrownbbm.
About Governor Brown
Hip-hop artist Governor Brown co-owns BBM production studios, where he currently where he currently creates his magic. His audience has grown since the release of his mix tape, "The Best of Governor Brown," in 2006. He has now attained a national mix show buzz in 26 markets throughout the United States. He can be consistently heard on Power 99 and 100.3 (The Beat) in Philly. "Hands Up," featuring Bezel from the Diplomats, was a radio promotional track that received play as far west as Chicago and as far south as Atlanta.
About El Media Enterprises
El Media Enterprises is a record label and multimedia corporation that deals with all facets of multimedia marketing promotion, digital and physical record distribution, video editing and production, as well as ringtone production. El Media builds artists through gorilla marketing and gets them ready to advance their careers in a new competitive music industry that is changing daily.
# # #