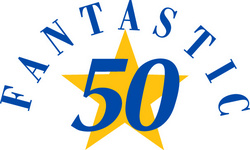 We are flattered to be recognized by the Virginia Chamber of Commerce for the second consecutive year and are pleased that all our hard work this past year has paid off
Arlington, VA (Vocus) May 4, 2010
Ideal Innovations, Inc. (I3), a leader in biometric and forensic technology, today announced they have received the Fantastic 50 Award for 2010, presented by the Virginia Chamber of Commerce. The names of the fifty fastest-growing companies in Virginia were announced at the fifteenth annual Fantastic 50 Awards Banquet at the Westfields Marriott in Chantilly, with nearly 400 attendees saluting the winners for their entrepreneurial success and contributions to Virginia's economy.
"We are flattered to be recognized by the Virginia Chamber of Commerce for the second consecutive year and are pleased that all our hard work this past year has paid off," said Bob Kocher, president and CEO of I3. "This award is a testament to our success in the technology industry and I'm excited to share this honor with our employees, who have consistently provided superior technical solutions to our clients."
Virginia's Fantastic 50 award program is a signature event of the Virginia Chamber of Commerce. The awards recognize leading businesses across the Commonwealth in all types of industries and are the only statewide awards of this type in Virginia. The banquet's keynote speaker was the Honorable James Cheng, Virginia's Secretary of Commerce and Trade, who gave an inspirational address before assisting in the presentation of the awards. At last year's event, I3 received the Virginia Vanguard Award for technology, recognizing I3 as the leading technology company in the state with the highest revenue growth rate over three years.
The winning companies are featured in the May issue of Virginia Business magazine and detailed profiles about each organization are posted on the Virginia Fantastic 50 website at http://www.fan50winners.ning.com.
About I3
I3 is a veteran-owned firm that provides services and develops new technologies for the Government and commercial organizations. The company identifies emerging technologies and scientific discoveries and then facilitates their maturation into products which protect lives, enhance survivability, and enable more efficient operations. I3's highly skilled subject matter experts provide innovative solutions in the areas of biometrics, forensics, improvised explosive device (IED) defeat, advanced armor solutions, engineering services and training.
For more information about I3, visit the website at http://www.idealinnovations.com.
###