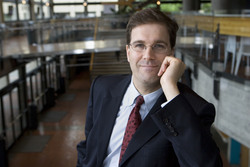 Whether on our stages or out in the community, our artists enrich the cultural landscape by challenging, inspiring, and entertaining.
Berkeley, CA (PRWEB) May 4, 2010
Matias Tarnopolsky's first season as Director of Cal Performances, the internationally distinguished arts presenter based on the campus of UC Berkeley, features the launch of Ojai North, a new multi-year partnership with the acclaimed Ojai Festival— with Dawn Upshaw, Maria Schneider and Peter Sellars; the first West Coast appearances of Lorin Maazel's acclaimed Castleton Festival Opera Britten Project; and the inauguration of a new annual orchestral residency project beginning with three concerts by the legendary Vienna Philharmonic conducted by Semyon Bychkov.
Highlights of the more than 100 performances offered in the 2010/11 season are Mark Morris Dance Group; Druid theater company in Martin McDonagh's The Cripple of Inishmaan; Les Violons du Roy; the Silk Road Ensemble with Yo-Yo Ma; the final performances of Merce Cunningham Dance Company, including the Cunningham/Cage collaboration, Roaratorio; jazz vocalist Kurt Elling; The Tallis Scholars' Victoria cycle; Eonnagata, a multidimensional collaboration featuring Robert Lepage, Sylvie Guillem and Russell Maliphant; and baritone Bryn Terfel, among many others.
Debuts and first appearances will include sought-after tenor Jonas Kaufmann; Benjamin Bagby's Beowulf; one of Japan's oldest kabuki troupes, Zenshinza Theatre Company; Spain's Concha Buika; the legendary Royal Danish Ballet; playwright Wallace Shawn on the Strictly Speaking series; and violinist Christian Tetzlaff performing Bach's complete works for unaccompanied violin. World premieres by UC Berkeley composers Ken Ueno and Edmund Campion on the programs of Scharoun Ensemble Berlin, Ensemble Zellig, and Les Percussions de Strasbourg are illustrative of Tarnopolsky's emphasis on contemporary music across series.
"Here in Berkeley and, indeed, throughout the Bay Area, we understand that the arts are not extra, but at the heart of who we are," comments Matias Tarnopolsky. "Whether on our stages or out in the community, our artists enrich the cultural landscape by challenging, inspiring, and entertaining." Throughout the year, Tarnopolsky's programming emphasizes multi-concert residencies.
The 2010-2011 Season begins September 26 with a full day of free performances for the community. Pledging to significantly increase student attendance, Tarnolpolsky announced new ticket pricing to reach the broadest possible audience. The organization's historical commitment to community programs continues in force, reaching more than 30,000 people annually.
Visit Cal Performances newly redesigned website at http://www.calperformances.org to learn about the full 2010–2011 season.
###