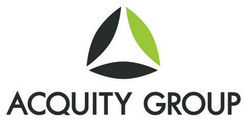 The world will be more digital tomorrow than it is today, and so long as that trend continues, we'll continue to set the tone in the marketplace
Chicago, IL (PRWEB) May 4, 2010
Acquity Group, the world-leading multi-channel commerce and digital marketing company, has been named one of the top five largest independent digital agencies in Advertising Age's 2010 Agency Report.
The annual Ad Age Agency Report, now in its 66th year, ranks U.S. marketing communications agencies by revenue.
Acquity Group's recognition reflects its position as an innovative, award-winning digital solutions firm that integrates elegant design and technology expertise with comprehensive business strategy. Major global corporations, such as Allstate, Sears, and Kellogg's, leverage the firm's cross-channel services to extend their brands online and strengthen their position in the digital channel.
These capabilities have fueled Acquity Group's rise as one of the nation's premier digital agencies. Since its founding in 2001, Acquity Group has grown from its four founders to more than 300 employees across seven offices nationwide.
"We're glad that Ad Age has validated what our customers and the marketplace as a whole is telling us," said Matt Schmeltz, EVP of Marketing at Acquity Group. "We provide best-in-class results by creating solutions that enable clients to realize the potential of their business online, empowering them to better compete and win in today's digital marketplace."
According to the fourth annual State of Marketing Report from the CMO Council, marketers are increasingly focusing on the digital channel. It reports that 46 percent of marketers will invest in digital demand generation and online relationships in 2010; with 48 percent anticipating they will spend as much as 30 percent of their budget on digital.
"The world will be more digital tomorrow than it is today, and so long as that trend continues, we'll continue to set the tone in the marketplace," added Schmeltz.
With some of the recent awards recognizing the company's success, including an Ernst & Young Entrepreneur Of The Year®, two Davey Awards for web redesign work, and being named a BtoB Magazine Top Agency, Acquity Group will continue to lead the digital charge into 2010 and beyond.
About Acquity Group:
Acquity Group delivers award-winning, tailored solutions to elevate brands and businesses by maximizing the digital channel. Acquity Group's innovative strategy, marketing & design, IT planning, and commerce & content services are the cornerstone of effective digital communication for today's leading brands. Acquity Group is headquartered in Chicago and has offices in Irvine, CA; Los Angeles, CA; Overland Park, KS; Boise, ID; Scottsdale, AZ; and Dallas, TX. To define a unique perspective for your business, contact Acquity Group at http://www.acquitygroup.com.
###