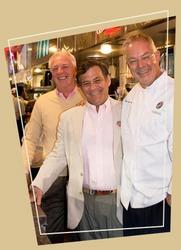 Sustainable farming is fundamental to our mission and we are proud to maintain a farm that lives up to very high standards. We grow our own feed, produce and bottle our own milk right here on our own farm and we do not give our cows growth hormone injections. In fact, in 2008, we were awarded the National Family Farm Environmental Excellence Award
Rockville, MD (Vocus) May 4, 2010
Silver Diner, the local MD, VA and NJ restaurants offering families high- quality, healthy meals in a fun atmosphere, announced a new era for its classic diner menu. For more than 20 years, Silver Diner has been a part of the DC metro area's history, serving home style favorites to local families. Now, the local icon has updated its menu with local, farm fresh ingredients.
"Silver Diner is taking the lead in providing locally grown, farm fresh, sustainable food for casual, family-friendly restaurants," said Ype Von Hengst , co-founder and chef at Silver Diner. "While some of the area's high–end, expensive restaurants are beginning to offer customers farm fresh foods it comes at a price- and a very high one. We are one of the only multi-unit family restaurants to change its food distribution system with such a wide array of local farms, making the same and even better quality foods available and affordable right at your local community diner."
Silver Diner now boasts a food supply that is locally grown and raised, offering chicken, eggs, milk, produce and even coffee shipped within a few hours, rather than days. With the close proximity, customers can taste the difference in freshness and flavor. The menu also features new sections for those guests with healthy eating in mind including "600 Calorie Entrées" and "Gluten Free" in addition to the classics customers love.
"With a 48 hour turnaround, local produce is focused on taste, and there is a tremendous difference in flavor," said James McWhorter, vice president at Coastal Sunbelt Produce. "Typical transit from the west coast means produce won't be eaten for 6-7 days after its picked, but buying local means we can get produce to the Silver Diner the day after it is comes off the vine and literally get milk from the cow to a milkshake in as little as two days. And, in addition to the great taste, Silver Diner's efforts are supporting the local economy and helping prevent the community's farmland from being lost to industry."
"Sustainable farming is fundamental to our mission and we are proud to maintain a farm that lives up to very high standards. We grow our own feed, produce and bottle our own milk right here on our own farm and we do not give our cows growth hormone injections. In fact, in 2008, we were awarded the National Family Farm Environmental Excellence Award," said Ron Kreider, president and CEO at Kreider Farms, a 3rd generation family owned and operated farm. "Working in partnership with Silver Diner, we are able to support another local company that upholds our high standards for today's families. The investment of resources Silver Diner has put into bringing fresh products from the farm straight to their tables makes them unique among family restaurant groups."
While there is a difference in taste, in health and in local economy, customers will still enjoy family friendly pricing, though the change did not come cheap. In fact, the new farm to table approach has raised Silver Diner food costs by nearly three-quarters of a million dollars. The team at Silver Diner sees this new move as an investment in the health of local business and the health of their customers and has not raised its prices. From creating local jobs to reinvigorating the local economy, the new menu benefits everyone in the community.
According to Ype, "The options are there for everyone no matter what you choose to eat, so even if you choose a burger you can count on hormone free meat to be the healthiest it can be."
About Silver Diner
With restaurants throughout Maryland, Virginia and New Jersey, Silver Diner is the preferred local restaurant for families seeking high-quality and healthy choices. The Diner offers classic American Favorites prepared with fresh and local ingredients. Guests get a high quality family dining experience in a retro-cool diner atmosphere.
For more information and to view the complete directory of locations visit http://www.SilverDiner.com . Visit the Silver Diner on Facebook or follow @silver_diner on Twitter for the latest information and deals.
###