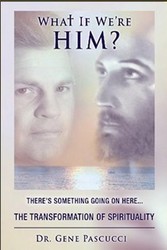 I don't want anybody to suffer. When it's finally seen and known that we were never separated from God, nor could we ever be, that pain simply ceases to exist.
Reno, NV (PRWEB) May 13, 2010
Dr. Gene Pascucci, a successful 57-year old Reno, Nevada, dentist –- and mystic -- has written an intimate and inspiring, autobiographical "personal search for God" book that belongs in every spiritual seeker's library. In "What If We're Him? There's Something Going On Here – The Transformation of Spirituality" (Gene Pascucci Publishing, 2010), Pascucci tells his story of growing up in a Catholic household, confronted at an early age by guilt and doubt, and his subsequent 47-year search for a personal spiritual truth that would ultimately set him free, providing redemption, resurrection, and a new life.
At age eight, when receiving first Holy Communion, the wafer stuck on the roof of Gene's mouth. Choking, the trauma popped him out of the ritual into an observer state, as he said to himself, "There is something going on here! I have to figure out what's going on. What is this all about? What is Jesus all about? Why does everyone believe all this?"
From this early age, Gene had been drawn to question and understand the most profound realities of Life. Who are we? What is God? What are we here for? He almost attended seminary to become a priest but decided that family life with children was more his path.
But his need to know these deepest truths – answers to these essential questions and his own personal redemption -- never left awareness. "This book is a distillation of hundreds of thousands of dollars and thousands of hours in endless study of books, travel, lectures, seminars, and discussions," notes Pascucci, "It's a synthesis of what became unveiled to me, living in this vigorous inquiry process."
Of course, while engaged in this lifelong search for truth, meaning, and personal redemption, Gene completed dental school, married and raised a family, and developed a popular and successful dental practice in Reno, where he still works and resides with his family.
The book is a doorway for anyone who has been seeking, like Pascucci did, for additional information, answers, and perspectives. For people seeking to make the shift from faith and dogma, to knowing firsthand. "Jesus's message wasn't about Himself," notes Pascucci, "but rather about each and every one of us. What if the entire Christian story is actually a metaphor for our own universal human journey?"
Gene's book is about The Transformation of Spirituality: "The movement away from 'we are separate from God, and need to reconnect' … to the possibility that 'each one of us, individually, is an expression of this BEING (God) experiencing itself.'"
What was Gene's primary motivation for writing What If We're Him? "I don't want anybody to suffer," he says. When it's finally seen and known that we were never separated from God, nor could we ever be, that pain simply ceases to exist. I hope What If We're Him? will help all my readers have that experience and move along in their own growth and evolution."
###