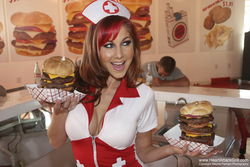 Heart Attack Grill customers who weigh over 350 pounds eat for free! unhealthy offerings include no-filter cigarettes and beer. Customers who weigh over 350 pounds are rewarded by being allowed to eat unlimited burgers for free!
Chandler, AZ (PRWEB) May 4, 2010
Heart Attack Grill has successfully obtained a Federal Court judgment (10-CV-80127-MARRA-JOHNSON) against a trademark infringer who was using its medical theme. Heart Attack Grill aggressively protected and enforced its right to the medical theme hamburger concept, which it originated in 2005. Although, the Defendants may continue to do business with a different theme, the Federal Court ordered an injunction stopping the Defendants from operating a restaurant, which uses a medical theme.
The Heart Attack Grill has become internationally famous for serving unashamedly high-calorie menu items with controversial names. The waitresses, who are dressed as nurses, "prescribe" a menu of Single, Double, Triple, and Quadruple Bypass Burgers with "Flatliner Fries" cooked in pure lard. Customers who weigh over 350 pounds eat for absolutely free. The menu's unhealthy offerings are rounded out with unfiltered cigarettes and beer.
Dr Jon, the originator of the medically themed hamburger concept was quoted, "I've risked my life savings to develop the Heart Attack Grill's medical theme. All I can say is that I'm very thankful to Judge Marra for granting me justice against these people." Judge Kenneth Marra of the United States District Court, Southern District of Florida, West Palm Beach Division, entered the judgment into record on Tuesday May 3rd, 2010. "I'm just a small business owner who had a unique idea. Sure I've worked hard, but I've gotten real damn lucky too. Unfortunately along with our success has come a few copycats."
This judgment against Heart Stoppers Grill of Delray Beach, comes atop the 2009 victory over the Pensacola based copycat Flatline Grill, which was forcibly shut down for similar unauthorized use of the medical hamburger theme. Robert Kain of the Fort Lauderdale intellectual property law firm, Kain & Associates says, "The Heart Attack Grill will continue to enforce its national rights against all other infringers".
Photos and additional info are available at: http://www.heartattackgrill.com/media2.html
Contact:
Dr Jon Basso
jon(at)heartattackgrill(dot)com
6185 W. Chandler Blvd
Chandler, Arizona 85226
Ph: 480-398-6601
# # #