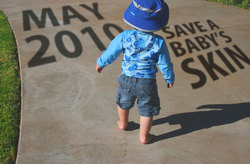 'More than 2 million people will be diagnosed with skin cancer this year. We hope to raise awareness by starting with the babies.'
Sonora, CA (PRWEB) May 3, 2010
UV Skinz is giving away free UV Protective Baby Swim Shirts to all customers who place an order this May in honor of National Skin Cancer Awareness Month. UV Skinz, one of the original companies to design and manufacture sun protective wear, wants to ensure that all babies are given proper protection against skin cancer, which is dangerously on the rise in babies, children and teens. This is the third year in a row that UV Skinz has generously donated swimwear for their cause.
Rhonda Sparks, the woman who founded UV Skinz in 2005 after losing her 32-year old husband to melanoma says, "We hope that our customers who already understand the importance of skin sun health will donate the bonus Baby Skinz to charitable causes of their choosing such as a local women's shelter, YMCA or American Cancer Society chapter in the name of getting as many children covered as possible." Each shipment will contain a free UV Baby Skinz along with a flyer asking customers to pass along the Baby Skinz to a needy organization or even a needy neighbor. Sparks goes on to say, "Not only does this program get people thinking about encouraging skin health in children at early ages, but by passing along the Baby Skinz swimshirts to those in need, people are also getting out into their communities helping other great causes." Sparks estimates that the company was able to give away approximately 1,850 swim shirts for the May 2008 Skin Cancer Awareness promotion and about doubled that in last year's 2009 giveaway. The company's intention this year is to reach the 3,000 Baby Skinz giveaway goal.
Without exception, babies under age six months should not be in the sun and most pediatricians recommend no direct sunlight exposure for infants within the first few years. The reality is that most infants older than six months will likely spend some time outdoors, even if just for walks in a stroller, and should therefore be sun protected from head to toe year round, not just during summer months. Skin's sun protection defenses are not fully developed in newborns and young infants so special care to protect babies' delicate skin from direct sun or indirect water, snow or concrete glare must be taken into consideration for the first few years of life.
The effects of sunscreen on babies' thin skin have not been adequately tested to date. Babies cannot communicate what is uncomfortable or what may be irritating to their skin and eyes. The UPF 50+ UV protection of most UV Skinz wear is primarily due to the tight weave of the soft and stretchy microfiber blend fabric which blocks out 98% of harmful UV rays without using harsh chemicals. UV Skinz board shorts and light color fabrics are given an extra measure of protection to ensure a UPF50 sun guard. "And then there's the 'wiggle' factor," Sparks adds. "Anyone who has kids knows how difficult it is to get them to stay still long enough to get on a proper coating of sunscreen. Our UV wear minimizes unprotected skin areas that would need to be covered with a non-toxic broad spectrum sunscreen which should be applied correctly and often."
Statistics show that we aren't doing enough to curb the phenomenal growth rate of skin cancer occurrence in this country. Only one, severe sunburn in childhood can more than double the chances of skin cancer developing in adulthood. The Skin Cancer Foundation provides a host of alarming skin cancer facts on its website taken from the works of pediatric oncologists, the American Cancer Society and American Academy of Dermatology. Among these facts is that melanoma incidence among those under 20 years of age rose 2.9 percent between 1973 and 2001. Melanoma accounts for about 3 percent of all pediatric cancers with 90 percent of pediatric melanoma cases found in 10-19 year old girls. With every sunburn comes a decrease in the skin's natural ability to protect itself and an exponentially higher likelihood that skin disease, eye damage or weakening of the immune system will occur later in life.
The National Cancer Institute reports that while many common cancer rates are falling, melanoma rates within the U.S. continue to grow at an astonishing rate, faster than those of the seven most common cancers. Sparks implores parents to cover their children, discourage tanning bed use and protect them from becoming the one in five Americans who will develop skin cancer in their lifetimes. "I am doing everything I can to protect my children from suffering the same fate that their father suffered when we lost him to melanoma. I hope our Baby Skinz donation program will be a small step in preventing more families from being impacted by this devastating disease."
Rhonda Sparks is no stranger to the destructive dangers of the sun. It was losing her 32-year-old, avid surfer and snow skier husband to melanoma, the deadliest form of skin cancer, and having to raise their three young boys on her own that spurred her to action to help raise awareness about this potentially lethal disease. "We were just so ignorant to the causes of skin cancer and how deadly it can be," Sparks said. "If we can keep one sun burn from happening, then Darren's life and our hard efforts are all worth it."
For interviews, UV Skinz product samples and/or jpg photos, please email your request to: info(at)uvskinz(dot)com or call (877)887-5469.
###