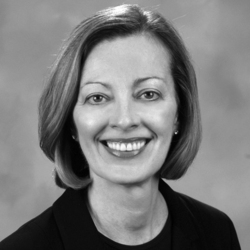 Eileen is uniquely qualified to lead ICC/Decision Services into the next decade, when we project tremendous growth, particularly in the areas of customer experience management and shopper marketing
New York, NY (PRWEB) May 4, 2010
Eileen Scott has joined ICC/Decision Services as Chief Operating Officer, effective today, according to CEO and President David Rich.
Ms. Scott is the former Chief Executive Officer of Pathmark Stores, Inc., where she spent the bulk of her 30-year retail career.
She rose through Pathmark's management training program and held a variety of positions including vice president of sales and marketing, senior vice president of non-foods and pharmacy, executive vice president of merchandising and logistics, and executive vice president of store operations before being appointed CEO in October 2002. At that time, she was the first female CEO of a U.S. public supermarket company and one of only seven female CEOs of Fortune 500 companies. Scott retired from Pathmark in September 2005 after successfully negotiating a $150 million private equity investment in the company.
"Eileen is uniquely qualified to lead ICC/Decision Services into the next decade, when we project tremendous growth, particularly in the areas of customer experience management and shopper marketing," said David Rich, CEO of ICC/Decision Services. "I am thrilled to have her join us and I look forward to working with her and our clients to redefine how to measure, manage and improve the customer experience."
"I am excited to join the ICC/Decision Services team and focus on the goal of helping our clients hear the voices of their customers and use actionable metrics to drive sustained customer experience improvement," said Scott.
Additional background
After leaving Pathmark, Scott decided to fulfill a longtime dream of getting a graduate degree. She received her MBA in Finance from NYU's Stern School of Business in January 2009. Most recently, she served as interim executive director of the Women's Fund of New Jersey at the request of the Board of Directors. She managed the organization during a difficult time and led the executive search and eventual transition to a new executive director.
Scott is a member of the Board of Directors of Perdue Farms, Inc., The Food Bank for New York City and the Girl Scouts of the USA. She is a charter member and champion of the Network for Executive Women, whose mission is to attract, retain and advance women in the retail and consumer products industry.
About ICC/Decision Services
ICC/Decision Services was founded in 1979 to design and execute Customer Experience Management programs. The company offers a wide range of qualitative and quantitative business tools, including mystery shopping, shopper intercepts, iPhone applications, conversion rates tools, customer satisfaction and employee engagement. Clients include Coach, L.L. Bean, Rite Aid, 7-11, Foot Locker, CVS, Walmart and others. The company is headquartered at 122 West 27th Street, New York, NY 10001 U.S.A. Phone (800) 444-1717. More information is available at http://www.iccds.com.
Media contact:
Neil McGlone
Principal
StratComm Consulting
214-566-4938
# # #