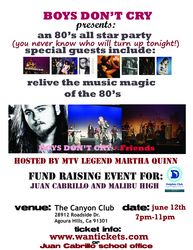 you never know who will turn up tonight !
Malibu, CA (PRWEB) May 5, 2010
Boys Don't Cry front man Nick Richards has put together a very special night of music from the eighties on June 12th at the world famous Canyon club in Agoura hills.
Joining Boys Don't Cry, who had a number one hit with " I wanna be a cowboy " in 1986, are Roy Hay from Culture Club, Deon Estus from Wham, Calvin Hayes from Johnny Hates Jazz, Fee Waybill from the tubes, and the Mary Jane Girls will open the show.
The evening will be hosted by MTV legend Martha Quinn.
You never know who will turn up tonight ! quoted Nick Richards.
There will also be an eighties disco and a pole dancing competition.
This event is to raise money for Malibu high and Juan Cabrillo elementary schools, and tickets can be purchased from http://www.wantickets.com or from the schools themselves. Guests are subject to change.
Nick Richards is determined to put the fun back into fund raising.
For more details please visit http://www.boysdontcry.net
###