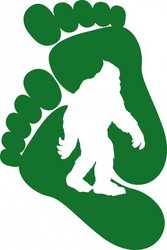 This new conference has become a big deal. Huge. Bigfoot goes unseen. We want you to be visible.
Bremerton, Wash. (PRWEB) May 5, 2010
We are proud to announce "Bigfoot …the Northwest's Social Networking & Social Media Conference" – a new Northwest conference dedicated to internet social networking. The one-day event will be held at the Kitsap Conference Center at Bremerton Harborside on Friday, June 4, from 8:30am-4:30pm, just a three-minute walk from the Bremerton/Seattle ferry terminal.
The North Mason County Chamber of Commerce, the creating entity, has been recognized nationally for its recent success in championing social networking as a business tool for its members and the chamber itself. "Social networking is no longer the wave of the future – it is here, and it is huge," says Frank Kenny, President/CEO, "We designed this conference to provide direct access to the most current trend-setting information for our members and the public at large – anyone who is interested in thinking big and leaving a bigger imprint in cyberspace should join us at Bigfoot."
Nationally known keynote speakers include: Chris Widener, professional speaker and founder/president of Made for Success, best-selling author Rabbi Daniel Lapin, host of the syndicated Rabbi Daniel Lapin Show, and award winning author of "BAM!" Barry Moltz. Breakout presenters include Marc Mercuri, Microsoft (special product announcement); Shauna Casey, Comcast (non-profit expert); Derek Johnson, Founder of Tantango (top young entrepreneur); Barry Hurt, Founder of 123socialmedia.com, Rich Jacobson, Mindy Byers, Dan Weedin, Stephanie Horton, and Bob Ingram. The Association of Washington Business (AWB) will moderate a discussion of Internet Social networking for politics and policy advocacy. For a complete list, visit http://www.bigfootsnc.com
"Bigfoot" is a premier social networking event presented by the North Mason County Chamber of Commerce. Sponsors include: Association of Washington Business (AWB), U.S. Chamber of Commerce, Boxlight , Allyn Technology Group, Kitsap Peninsula Business Journal, Mashable…The Social Media Guide, Terraganne, Kitsap Sun, Robert Farster dj services, Mason County PUD3.
http://www.northmasonchamber.com http://www.bigfootsnc.com. 10% discount for all Chamber members. Code word: VISIBLE
Contact:
Frank Kenny, President/CEO, North Mason County Chamber of Commerce
(360) 275-4267
Event: Bigfoot Social Networking & Social Media Conference
http://www.bigfootsnc.com
Date: Friday, June 4, 2010
Cost: $149 until May 14; $199 after. Breakfast, lunch, breaks included.
Location: Kitsap Conference Center at Bremerton Harborside
Register: http://www.brownpapertickets.com/event/100986
# # #