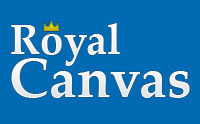 We put the Royal Canvas website online for testing a few months ago and we started getting orders before we were even ready
Chesapeake, VA (PRWEB) May 5, 2010
Today the team at PosterBurner.com, a site that specializes in custom posters, announced the launch of RoyalCanvas.com. Royal Canvas allows users to print canvas and create museum quality wrapped prints from their pictures, photos, and artwork.
"It's amazing how popular the wrapped canvas prints have been," says founder Matt Stephenson. "We put the Royal Canvas website online for testing a few months ago and we started getting orders before we were even ready. We were all amazed by that. It told us that we have the right options and the right prices."
Stephenson says they will offer the same satisfaction guarantee with Royal Canvas prints that they offer customers at PosterBurner.com. "It's about treating customers right," says Stephenson, "if the customer isn't happy, they should get a quick response. They should get listened too, and they should have the option to get their money back if they aren't satisfied with the job we do."
Royal Canvas is offering a 10% off launch special. Visit the RoyalCanvas.com website to take advantage of this deal.
###