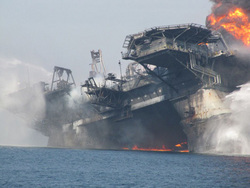 Although the company promised to "clean up" its act, it continued to cut corners.
Houston, TX (PRWEB) May 5, 2010
As the oil spill from the Deepwater Horizon rig explosion continues to expand and approach land, eyes focus more on one of the companies that could be responsible: British Petroleum (BP). One veteran BP explosion lawyer is not surprised.
"Ironically, the oil company known worldwide for its 'green' logo and 'environmentally-conscious' production efforts has a history of serious accidents, making it no stranger to disasters like the one that occurred April 20, 2010", says rig explosion attorney Ryan Zehl of Fitts Zehl, LLP in Houston.
In March 2005, a BP refinery in Texas City, Texas exploded killing 15 workers and injuring thousands. Subsequent investigations revealed BP ignored its own safety protocols regarding the operation of the ISOM unit and powered it with a disabled warning system. As a result, the U.S. Environmental Protection Agency ("EPA") fined BP more than $50 million (the largest fine in history) after BP pleaded guilty to federal charges.
Although the company promised to "clean up" its act, it continued to cut corners. One year later a hole was discovered in BP's Prudhoe Bay, Alaska pipeline. This hole allowed an estimated 4,800 barrels of oil to leak into the ground. BP was fined again—this time $12 million for violating the Federal Water Pollution Control Act — after a congressional committee found the company failed to seize opportunities that would have prevented the leak.
While still too early to know what exactly caused the Deepwater Horizon explosion, it has already been alleged that both BP and Transocean, the actual owner of the rig operated by BP at the time of the blast, could have utilized backup safety equipment (i.e., a remote switch that might have stopped the flow of oil at its source) some 5,000 feet below the surface of the ocean. While the device is not mandated under U.S. law, it is often used in the industry and required in other parts of the world where BP drills.
"With such an extensive record of putting profit over safety and the welfare of our environment, it's hardly surprising that the workers who tragically lost their lives and were injured during the Deepwater Horizon explosion, as well as everyone living along the Gulf Coast, are forced to deal with yet another disaster, said Zehl.
About Fitts Zehl:
Fitts Zehl LLP is a national maritime and personal injury law firm that represents workers injured in offshore and other work place explosions. The maritime lawyers recovered millions in damages on behalf of injured offshore and refinery workers in connection with three of the largest work place explosions since 2005. For a free consultation with a BP explosion lawyer call 1-800-993-4887.
###