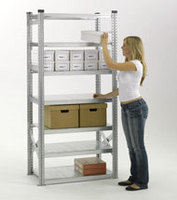 The shelving allows an exceptional stock holding which will improve turnover and help achieve high levels of customer service
(PRWeb UK) May 6, 2010
When you're the UK's fastest growing electrical wholesaler it's vital to make the maximum use of your stock holding space. Storage specialist Action Storage recently assisted City Electrical Factors (CEF) to do just that after installing its Supershelf™ shelving system into CEF's newest branch in London's West End.
The Supershelf™ is a versatile zinc finish steel shelving system that can be used in a wide range of retail, stockroom, manufacturing and wholesale applications. It provided CEF with the ideal stockroom solution because it can be arranged in a variety of shapes and sizes to make the maximum use of the available space. The Supershelf™ shelving system is also exceptionally durable, with heavy duty long span bays that can support up to 500kg per shelf.
The quality of the Supershelf™ stockroom shelving system was matched by the expertise Action Storage was able to supply to CEF. Drawing on its experience in outfitting numerous stock holdings areas, Action Storage provided plans on the best possible arrangement that would maximise the use of floor space whilst accommodating multiple levels of flexible storage shelving.
During the installation Action Storage also had to contend with simultaneous refurbishments taking place at CEF's new branch. This meant Action Storage had to be able to respond to changes in the layout and plans, which meant numerous site visits to ensure the project stayed on track. Thanks to its experience in managing large installations and the expertise of its in-house installation team, Action Storage was able to ensure the stockroom shelving was installed on time and within budget.
"The shelving allows an exceptional stock holding which will improve turnover and help achieve high levels of customer service," said CEF's Senior Group Manager Jeremy Saunders, "The sales, ordering and installation process with Action Storage was first class. We have an ongoing programme of new branches and improved locations, and this new fit- out will fly the flag for improved customer perception, appearance and CEF professionalism."
CEF is the UK's fastest growing electrical wholesaler with over 400 branches throughout the UK. Action Storage and CEF have a relationship that dates back to 2001, in which time Action Storage has supplied stockroom shelving, long span shelving and coil racking to over 50 of CEF's branches.
Details of Action Storage's innovative range of storage shelving, lockers and stockroom containers can be found on its website, where you can also order or download its new 160 page catalogue free of charge. Councils and other public sector organisations can place orders on credit with a valid purchase order, and all online orders receive a 5% discount.
About Action Storage
For over 23 years Action Storage has supplied shelving, racking and other storage equipment using the latest materials and innovative designs. Its clients include supermarkets, warehouses, government offices, schools and anyone else requiring high quality storage systems throughout the UK and mainland Europe.
Action Storage prides itself on its high service levels, and provides a free, unique advice line for discussing your requirements and assessing the perfect storage solution.
For service enquiries contact:
Website: http://www.action-storage.co.uk
Tel UK: 0800 592215
Outside UK: +44 (0)1908 525700
Fax: +44 (0)1908 321650
Action Storage
6 Fitzhamon Court
Wolverton Mill South
Milton Keynes
Bucks
MK12 6LB
###