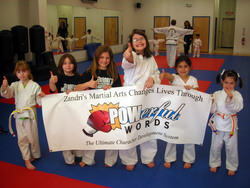 It's been just amazing to watch Dr. Robyn go from our character development expert to the nation's expert.
Brookfield, CT (PRWEB) May 5, 2010
Dr. Robyn Silverman can be seen on The Tyra Banks show, Fox and Friends, NBC's LXTV, Fox News Network and coming soon; Nightline. Her book on Body Image, "Good Girls Don't Get Fat", will be hitting the bookshelves during an international launch in early October. And she is regularly asked to contribute on other regional and national programs. She has become a sought after expert and much of her celebrity got started thanks to the martial arts.
5 years ago Mike Brooks and Mike Zandri, co-owners of Zandri's Martial Arts in Brookfield, CT made a decision that would take them from running a small martial arts club to a nationally recognized character development center for kids as young as 3, teens and adults. Their goal was to literally transform their martial arts school into a World Class Personal Development Center.
Even though they were committed to teaching effective self defense, they didn't want to simply be a fight club. They felt an urgent need to teach kids and adults to fight the much bigger problems and challenges that they will surely face in life.
Things like peer pressure, drugs, drinking, lack of self confidence, the fear of self doubt, skyrocketing obesity rates and the crippling effects of ADD just to name a few. The problems kids face these days are profoundly more dangerous than ever before in our history.
To accomplish this, Zandri and Brooks knew that they needed to make a change. They needed a transition from simply being a martial arts club that teaches kicking and punching to a full time character development center.
"I knew we needed to educate ourselves." Say Brooks. "We needed a professional in the field of child development and teaching methodology to help us mold a real educational and strong curriculum."
The pair found exactly what they were looking for in another martial arts school located in Massachusetts. This school had their very own full time character development specialist on their staff and was making a massive impact upon their students and their community.
Dr. Robyn Silverman created the program called Powerful Words which she and her husband Jason used at their martial arts school. Brooks learned about their program after meeting Mr. Silverman at a martial arts event. He immediately knew this was the missing piece that he'd been hunting for.
Zandri's Martial Arts immediately hired Dr. Robyn to implement the same program into their school. To this day they still license the program that provides a comprehensive character education curriculum to their school every month.
The program was in immediate smash hit for the school. Kids loved it and the parents couldn't speak highly enough about what their kids were learning and the profound impact it was having on their lives.
It wasn't long before child advocates in their area such as child psychologists and school teachers began recommending parents to bring their children to Zandri's.
Recently, the families, students and instructors at Zandri's Martial Arts received more proof that Dr. Robyn is something very special. She recently recorded a 15 minute piece to appear on the award winning news program Nightline on the ABC TV Network.
It all started when producers from the Tyra Banks show called Dr. Robyn to appear on their program as a body image expert. They learned about her from one of the many Youtube videos that Dr. Robyn records each month for students at Zandri's Martial Arts.
"It's been just amazing to watch Dr. Robyn go from our character development expert to the nation's expert." Says Brooks. "We always knew she was something special. It's fun to watch as the rest of the country discovers this. The way things are moving for her, I wouldn't be surprised to see her get her own television show."
Dr. Robyn's book "Good Girls Don't Get Fat" is set for October release. Her schedule gets more hectic with every passing day. In addition to her ever multiplying television appearances, creating the monthly character education for Zandri's and now many other smart martial arts schools all over the world, and an upcoming book release, she and Jason are expecting their second child to arrive in June.
Dr. Robyn can be reached through her blog
###