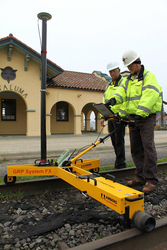 "The Amberg GRP saved us months of field work…plus, we could do more for our client." James M. Dickey, PLS President Cinquini & Passarino, Inc
(PRWEB) May 6, 2010
The current edition of The American Surveyor magazine features the success of Cinquini and Passarino, Inc., using the Amberg Technologies' GRP track measurement system on the Sonoma-Marin Area Rail Transit (SMART) project in Northern California. The full article with photos can be downloaded at http://www.amerisurv.com/content/view/7262/.
Comprehensive Track Surveying Solution
The GRP is a modular, trolley based hardware platform. Combined with the powerful Amberg Rail software suite, the system is used for a wide array of applications within both the freight and passenger rail industries, including:

As-built acceptance surveys
Track geometry surveys
Real-time track adjustments for direct fixation and embedded slab track construction (High Speed Rail Construction and Light Rail Construction)
Real-time clearance analysis
Asset documentation
Mobile, 3D laser scanning
Tamping surveys
See how the GRP track measurement system works for the Sonoma-Marin Area Rail Transit (SMART) project on YouTube.
About Amberg Technologies
For over 25 years, Amberg Technologies has remained a leading provider of specialized system solutions for the geo-referenced collection and refinement of civil infrastructure information. Thanks to solid knowledge and the steadfast focus of our company's activities on the area of civil infrastructure, especially railways and tunnels, the system solutions from Amberg Technologies enjoy an excellent reputation by experts worldwide. Proven technologies, outstanding quality and reliability as well as the exceptional creation of value through daily utilization have convinced professional users of our products in over 40 countries.
For further Information, please contact:
Amberg Technologies AG
Trockenloostrasse 21
8105 Regensdorf-Watt
Switzerland
Phone +41 44 870 92 22
Fax. +41 44 870 06 18
http://www.ambergtechnologies.com
North America Corporate Contact :
Brian S. Daniel
Regional Manager – North America
Mobile: +1 757.630.0094
bdaniel(at)ambergtechnologies(dot)com
###