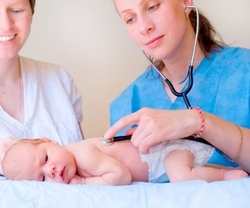 Chicago, IL (PRWEB) May 5, 2010
Women in medicine have two demanding jobs, often working 80 hours a week at the hospital and caring for their children at home. The results of a recent survey conducted by MomMD.com give insight into how they balance both challenges.
Highlights of the results of the work-life balance survey:
Even when working 50 to 80 hours a week in the clinic, more than 80% of resident physicians either shared child care responsibilities equally or were the primary child care providers.
Surprisingly, mom physicians were more likely to be the primary child care provider in the family than were the non-physician moms in the survey.
40% of mom physicians shared the child care responsibilities equally with their partner.
Mom physicians were four times more likely to send their kids to private school than was the general public. This held true even for medical students and resident physicians, whose family incomes were usually below $70,000 a year.
74% of resident physician moms work at the clinic or hospital more than 50 hours a week.
Full results at:
Women in medicine demographics
Child care
Schooling and education
About MomMD.com: Founded in 1999, MomMD is the largest online community for women in medicine, with over 9,000 members including physicians, physician assistants, nurses and medical students.
Press Contact:
Kate Hannigan
webmaster(at)mommd(dot)com
310-289-4456
###