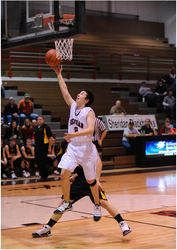 Whenever Jack would create a shot, she would say, "How do you teach that!?"
Indianapolis, IN (PRWEB) May 6, 2010
Ever since he was a little tyke, Jack O'Flaherty liked to put the ball in the hoop. But, now that Jack is older, he plays hard defense and gets everyone involved in the game. Scoring is still something Jack likes to do to help his team win. It's a part of the game. Jack does it well as a junior combo guard for Sheridan High School and his 17U AAU team, Indiana Impact. You can see a sample of Jack's game by clicking on YouTube - Sheridan H.S. Highlights.
His Dad, John, has always insisted that Jack be a team player and play the WHOLE game - both ends of the court. His Dad has coached Jack since he was small, providing lessons with Tennessee's 1991 USA Today Player of the Year, Tiffany Woosley, training at former IU star and NBA player Tom Abernethy's Indiana Basketball Academy in Carmel, IN, and teaching him the fundamentals of the game. In addition, Jack works out at the St. Vincent Sports Performance Center. Hard work and passion for the game of basketball has been Jack O'Flaherty's daily routine.
When Jack was a little boy, he used to play on his elementary school team in Nashville, TN. Even in the 4th grade, Jack could see the floor well, pass the ball to his teammates, and score more points than the other boys. Jack's Dad saw that he had creative talents and a high basketball IQ. Jack could put that ball in the hoop. So he took his son to Smyrna, TN, and met Tiffany Woosley, a former Tennessee Lady Volunteer, who was an outstanding player for state champion Shelbyville H.S. Tiffany saw something special in Jack and worked on game fundamentals. Whenever Jack would create a shot, she would say, "How do you teach that!?" At an early age, he would crossover and reverse against bigger players. Jack would create and shoot, and create and pass during Tiffany's lessons. And, he's never stopped playing the whole game, getting his teammates involved. This year, he led the Sheridan High School Varsity squad in free throw and 3-point shooting percentage. And, Jack was at the top of the free throw shooting percentage for Hamilton County. And, he was in the top five in 3-point percentage.
Jack O'Flaherty hasn't received the notice that other native Hoosier boys have received as he's the consummate team player. But, that's changing. Although Jack averages over 20 points per game on the AAU circuit, Jack would just as soon make a great pass as he would score. For Jack, scoring is not something for himself. Jack loves to score to help his team win. AAU and H.S. basketball fans are noticing and appreciating Jack's game. Over the years, lots of knowledgeable basketball people have commented that Jack's game resembles John Stockton, Steve Nash, or Mark Price. Jack smiles when he hears that.
Adversity has always made Jack O'Flaherty stronger. Though he didn't want to move from Nashville, TN, his family moved to Indiana due to a job offer. But, one thing Jack could count on, he could play basketball every day. And, that's what he has doing since his family moved to Indiana in 2004. For Jack, moving to Indiana was like "dying and going to basketball heaven". Where else can a boy play basketball everyday but in the heartland of Hoosier country?
This year, basketball fans have taken increased notice of Jack's game as he has helped Sheridan H.S. and his AAU team, Indiana Impact, win a few ball games this year. Jack O'Flaherty is a rising Black Hawk and an Impact Player. High School basketball fans are keeping an eye on him.
###