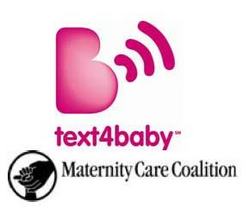 Philadelphia, PA (Vocus) May 5, 2010
Philadelphia Health Commissioner Dr. Donald F. Schwarz will be joined by Hillary Chen from the White House Office of Science and Technology Policy at a press conference to launch the Philadelphia Text4baby campaign. Text4baby, a free mobile information service, is designed to promote maternal and child health by providing pregnant women and new moms with detailed health tips to assist in caring for themselves and their children. The program, which was launched nationwide in February 2010, has close to 35,000 users, including 1,042 participants in Pennsylvania. Text4baby recently sent out its millionth text message, a milestone, after only three months of operation.
WHO:

Dr. Donald F. Schwarz, Philadelphia Health Commissioner
Hillary Chen, policy analyst, Executive Office of the President
Arlene Remick, director, National Healthy Mothers, Healthy Babies Coalition
Loraine Ballard Morrill, Philadelphia news and community affairs director, Clear Channel
20 local outreach partners and 5 enrolled pregnant women and new mothers
WHEN:
Wednesday, May 5, 2010
2:00PM
WHERE:
Please Touch Museum - Hamilton Hall
4231 Avenue of the Republic (formerly North Concourse Drive)
Philadelphia, PA 19131
Text4baby is an educational program of the National Healthy Mothers, Healthy Babies Coalition (HMHB), and provides pregnant women and new moms with information that helps them care for their health and give their babies the best possible start in life. Women sign up for the service by texting BABY (or BEBE in Spanish) to 511411 to receive free SMS text messages each week, timed to their due date or baby's date of birth. Text4baby is made possible through a broad, public-private partnership that includes government, corporations, academic institutions, professional associations, tribal agencies and non-profit organizations.
Philadelphia Text4baby Outreach Partners, to date, include: American Academy of Pediatrics, American College of Nurse Midwives, Children's Hospital of Philadelphia, Clear Channel, Delaware Valley Healthcare Council, Health Federation of Philadelphia, March of Dimes, Maternity Care Coalition, AmeriChoice Corporation, AmeriHealth Mercy Health Plan, CIGNA Health Corporation, Independence Blue Cross, Keystone Mercy Health Plan, Pennsylvania Department of Health, Pennsylvania Perinatal Partnership, Philadelphia Department of Public Health, Please Touch Museum, Public Health Management Corporation, Public Citizens for Children and Youth, Radio One, Vanguard Health Systems, United Way of SE Pennsylvania and North Inc. - WIC . Additional partners will be added during the year-long campaign.
###