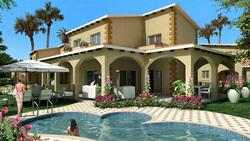 "We are very pleased with the property; it's just what we were looking for. It's in a lovely rural area with a beautiful beach."
Calabria, Southern Italy (PRWEB) May 10, 2010
Leading Italian property developer and agent VFI Overseas Property (http://www.vfioverseasproperty.com) is pleased to announce that it has commenced development of the second phase of the fabulous Pizzo Beach Club on the unspoilt Southern Italian Riviera-Calabria.
Following the stupendous success of the first phase of this gorgeous Beach Club that was almost entirely sold out before construction started, this latest development from VFI Overseas offers investors and buyers of overseas property another opportunity to secure apartments, family homes and luxury villas at this posh club that is lined by one of the prettiest, white sandy beaches in the south of Italy.
Some property investors have already experienced the phenomenal capital appreciation that a development like Pizzo Beach Club accords. For example, a 2-Bed, 2-Bath apartment in the phase 1 development purchased in 2008 for €155,900 was sold in 2010 for €218,400, yielding a cool €62,500 in profit for the investor at a staggering 20% per annum rate of return on the investment!
Great location: picture-perfect setting and conveniently accessible
The exciting and eye-catching Pizzo Beach Club development is located just 15 minutes away from the modern Lamezia Terme, making it easily accessible to property buyers from Europe and the worldover. A casual stroll away from the unspoilt, white sandy beach and the becalming tranquillity of the Tyrrhenian Sea, Pizzo Beach Club offers residents captivating sea views to Stromboli and the fabulous Aeolian Islands, now an UNESCO World Heritage site and the haunt of the rich and famous! The surreal natural beauty of this stretch of the Mediterranean, aptly named the Coast of the Gods, presents a heavenly backdrop for a glorious lifestyle.
Moreover, the area is blessed with a pleasing climate, where temperature seldom falls below 15 degrees C, even in winter months, while the summers are extremely pleasant with temperatures hovering just above 25 degree Celsius, making it a perfect getaway.
Range of holiday homes and investment property: fulfils different objectives, tastes and budgets
Pizzo Beach Club offers a choice of holiday and investment homes to cater to diverse buyer preferences, all built to very high Italian style, comfort and luxury. These include:
•3 Bedroom, 3-bathroom luxury villas built on two floors: These feature a kitchen area, living room and bathroom on the ground floor, leading out to a colonnaded patio and to a garden with parking, sundeck and swimming pool. The first floor has three bedrooms and two bathrooms.
•3- Bedroom, 2-bathroom semi-detached villas: built in blocks of four, again on two levels, the ground floor of these semi-detached villas is fitted with kitchen area, living room and bathroom with three bedrooms and a bathroom on the first floor. All family villas enjoy dedicated parking.
•Premium apartment blocks: Each block has four, 1-Bedroomed ground floor apartments including a kitchen area, living room and bathroom as well as garden space. There are two first floor apartments in each block with two bedrooms, a kitchen, living room and bathroom with a solarium for sunbathing on the roof. They are accessed by a dedicated private staircase.
Classy aesthetics and unmatched facilities
Pizzo Beach Club is characterised by the distinctive design of its facilities. Architectural ingenuity and thoughtful use of material have combined to ensure that the elegance and modernity of the shell-shaped theme adopted for the swimming pool, club spa, restaurants and shops here is in perfect harmony with the stunning local landscape. Not to mention the tennis courts and the crystal-clear waters of the adjoining beach, which offers thrilling snorkelling experiences.
A beautiful pine and eucalyptus wood that divides the sandy beach from Pizzo Beach Club II offers the most idyllic of settings to relax in the warm summer. Or, there is the historic Pizzo town centre, embellished with architectural beauties all around, that offers nothing short of a fairy-tale setting.
Happy clients moving into Pizzo Beach Club I said of the quality, support and service offered by VFI. ""We are very pleased with the property; it's just what we were looking for. It's in a lovely rural area with a beautiful beach. It is near to the shops and all facilities but at the same time not so close that you feel like you are in a "built up" area. Moreover, the area has got excellent airport links. We have found the VFI representatives to be very helpful, support and responsive, they always returned our calls," endorses Mrs Fiorina Mahon of Ireland, a proud owner of a property at Pizzo Beach Club I.
"Pizzo Beach Club epitomises everything that we at VFI Overseas Property are committed to offer: a top luxury property development in a delightful and promising location with facilities that will let our buyers indulge," said CEO'S Antonio Velardo and Harry Fitzsimons of VFI Overseas Property. "With our local knowledge, years of experience and customer service, we make it extremely easy to realize the dream of owning a luxury overseas property in Southern Italy. We look forward to welcoming more discerning property buyers to the Southern Italian Riveria- Calabria- we promise an enchanting lifestyle and a prudent property investment."
About VFI Overseas Property
VFI Overseas Property (http://www.vfioverseasproperty.com ) is the largest real estate developer and property agent in Southern Italy. Winner of numerous international accolades for its product and service excellence- including the prestigious 2009 Overseas Living Magazine Award for the best 5 star development in Italy. VFI also scooped three prestigious prizes at the CNBC 2009 European Residential Property Awards, Best Real Estate Agency, Best Architecture and Best Marketing Campaign. The company is acknowledged as one of the most innovative and pro-active organisations in the realm of property development and investment. With a second-to-none reputation for the quality of its luxury property developments and offices in London, Dublin, Moscow, St Petersburg, Tunis, Sweden, Ukraine and Italy, VFI is noted for its committed and highly-personalized service for all investors in their native language. The company prides itself in the end-to-end service that takes a property buyer through the entire buying process including arrangement of mortgages, insurances, legal assistance and first-class after-sales support.
###