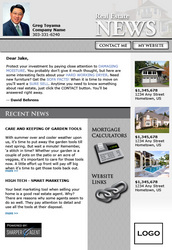 "The new consumer focused real estate marketing materials provided to us by RISMedia help REALTORS® present themselves to their past clients and new prospects as a truly knowledgeable advisor."
Denver, CO (PRWEB) May 6, 2010
SharperAgent is proud to announce that it has partnered with RISMedia, the leader in real estate information systems, to provide upgraded content, articles and videos for its eNewsletter feature.
Available for all SharperAgent subscribers, the eNewsletter allows real estate professionals and brokers to automatically send timely, relevant real estate information to consumers each month and generate new leads.
"The eNewsletter has become our most popular feature and it's clear to me why that is," explains Brian Wildermuth, President and Co-Founder of SharperAgent. "The new consumer focused real estate marketing materials provided to us by RISMedia help REALTORS® present themselves to their past clients and new prospects as a truly knowledgeable advisor."
New topics included in the eNewsletter range from updates on the latest trends in real estate to homeownership, finance and personal health. They are written and selected for consumers who are looking for more valuable content from real estate professionals in today's competitive market.
Agents can deliver their eNewsletter to current clients via email and post sign up forms online to their website or fan pages to capture new real estate leads.
In addition to the new articles and videos, eNewsletter users have the opportunity to customize each edition with information on their current or recent property listings, sales or open houses. They can also add custom articles, links to their social media pages and a personal message.
For more information about SharperAgent visit http://www.sharperagent.com or call 866-614-9372.
About SharperAgent
SharperAgent, headquartered in Denver, Colorado, coaches real estate and mortgage professionals and business owners on how to more effectively and efficiently market their services. This is achieved by providing the most relevant online and offline sphere marketing solutions available for contacting existing and prospective customers, connecting with them on a meaningful basis, and converting them into long-term, valued relationships.
# # #