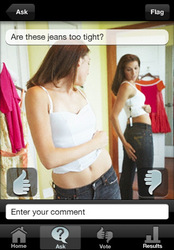 Participants can settle an argument, decide whether to buy, what to wear, or what color they should dye their hair.
Red Bank, NJ (PRWEB) May 4, 2010
Kurani Interactive, a New Jersey-based technology company, announced today that it has released Opinionaided in the Apple iTunes Store. Opinionaided is a free iPhone application that allows users to get opinions in real-time from friends, family, and the public.
The Opinionaided app for iPhone allows users to get opinions quickly using crowdsourcing. Users can ask contacts from their address book and the public questions easily using any photo captured with the device's camera or saved to the iPhone photo library. Users can get advice on anything from the fit of a pair of jeans or a home's value to new movies or something they've designed. Participants can settle an argument, decide whether to buy, what to wear, or what color they should dye their hair. Regardless of whether you keep your question private to selected friends and family or make it public, all votes (in the form of thumbs up/thumbs down) and comments are tabulated and kept in a personal section for review. Users can review the number of votes and quickly see the percentage of people that have voted thumbs up or thumbs down with accompanying comments. Perhaps the most addictive part of the application is the voting feature that displays questions and images in rapid fire, giving users the ability to tap thumbs up or thumbs down, and if feeling truly "opinionaided", leave a comment.
While the company noted that there is a possibility users may be charged for later versions of the application, the application is free at this time. The company has shared that monetization plans include market research services (i.e. intertwined branded questions in the voting stream).
"After five years in the concept stage and more than two years in development we are extremely excited to go live with Opinionaided. We are looking forward to seeing how the market reacts, and when folks find it as addictive as we do, we are ready to roll out the integrated platform with market research capabilities" said Dan Kurani, Founder of Opinionaided and President of Kurani Interactive.
Opinionaided is available as a free download from Apple's App Store on the iPhone and iPod touch or at http://itunes.apple.com/app/opinionaided/id368595692?mt=8 or http://bit.ly/9aeB30
About Kurani Interactive
Located in Red Bank, NJ, Kurani Interactive is an award-winning technology company that specializes in web-based application design. Visit Kurani Interactive's website at http://www.kurani.com or call (800) 889-7676.
For more information or support on Opinionaided, please visit http://www.beopinionaided.com.
Please direct all press inquires to:
Alan Mazzan
(732) 345-1700 x103
amazzan(at)kurani(dot)com
###