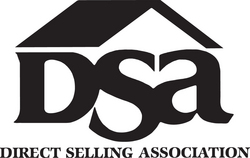 Direct selling has been a lifeline for Californians during the toughest job market we have faced in decades
Sacramento, CA (Vocus) May 5, 2010
Direct selling company CEOs converged on Sacramento today for the first Direct Selling Day in the state, an event designed to highlight the economic contributions an estimated 2.2 million California direct sellers make to the state's economy.
These hard-working Californians, many of them women, run their own businesses selling products and services through in-home parties and personal demonstration. Their activities support their families and bolster the state's economy. The number of sales representatives has increased during the recession, as people look for ways to supplement their income.
"Direct selling has been a lifeline for Californians during the toughest job market we have faced in decades," said Joseph Mariano, executive vice president of the Direct Selling Association. "It has helped millions of families make ends meet and has created entrepreneurs who will provide vital sources of income to their families long after the downturn ends."
Many direct sellers, who are classified as independent contractors, use their businesses to supplement other sources of income, Mariano said. But for some California residents, direct selling has become their only way to put food on the table.
"My husband is out of work – he was laid off and it's really hard to find a job here in California," said Jill Smith, a direct seller who lives in San Juan Capistrano.
Mariano said the purpose of Direct Selling Day is to communicate to legislators that small businesses, like direct sellers, are the backbone of the California economy, and that the state's political leaders must do everything possible to support these constituents as California works toward economic recovery.
Recent budget proposals in the California Legislature have sought to withhold 3 percent of direct sellers' earnings until the end of the year.
"In most cases anything that is withheld would be overwithholding," Mariano said. "This would limit needed cash flow and hurt the ability of direct sellers to grow their businesses. It could potentially put 500,000 direct sellers out of work."
"It is critical for California to continue to support these working moms," Mariano said.
Executives from the following direct selling companies will participate in visits with California legislators:
Amway, Beachbody, Herbalife, Jafra, Shaklee, Sunrider, Arbonne, Avon, Mary Kay, Private Quarters, Southwestern
About the Direct Selling Association
DSA is the national trade association of the leading firms that manufacture and distribute goods and services sold directly to consumers. Among its more than 250 active and pending members are companies selling both via a party-plan method and in the traditional person-to-person style. In 2007, U.S. direct sales were more than $30.8 billion with more than 15 million direct sellers nationwide. The vast majority are independent business people – micro-entrepreneurs – whose purpose is to sell the product/service of the company they voluntarily choose to represent. Approximately 90 percent of direct sellers operate their business part-time.
For more information on direct selling, DSA and its Code of Ethics, please visit the DSA website at http://www.dsa.org.
###