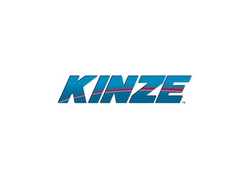 Williamsburg, Iowa (PRWEB) May 5, 2010
Kinze® Manufacturing unveiled a new addition to its popular line of 3600 planters today. The 3600 planter will now be offered with Air Seed Delivery (ASD) in both 12 row and 16 row configurations. In addition, these new models are available either with or without Interplant® row units.
The 3600 planter with ASD comes with two, centrally-mounted, 40-bushel hoppers (80 bushels total) that distribute seed to individual row units, using air pressure. The only moving part of the ASD system is the blower fan.
"We know that planting season is a high-pressure time of year - that's why we build planters like the 3600 with ASD," said Kinze Vice President and Chief Marketing Officer Susanne Veatch. "They're tough, reliable and efficient, increasing the planter's productivity during the most critical time of year."
The 3600 planter with ASD features a durable three-section frame that provides 14º total flexibility. It also features a hydraulic weight transfer mechanism that prevents the wings from rising out of the ground, and maintains consistent seed depth, for optimum seed placement. This feature still allows the frame to flex naturally in fields with rolling terrain and terraces. In addition, the 3600 transports as narrow as 11' 2" for more convenient access to and from the field.
Other features of the 3600 planter with ASD include:

The three-section double frame has a four row center section and four (12R) or six (16R) rows on each wing. The 3600 with ASD features a clean, uncluttered toolbar that adds strength and weight to the machine where it belongs, for durability in tough planting conditions.
It is available with either mechanical seed metering or with the Kinze EdgeVac® vacuum seed metering system.
Hydraulic drive is an option on the 3600 with ASD (however, this option is not available on models equipped with both ASD and the EdgeVac metering system).
Pneumatic down pressure is optional on the 3600 with ASD. This feature allows users to vary down pressure on-the-go as field conditions change.
It is available with two, 200 gallon liquid fertilizer tanks (400 gallon total capacity). It comes standard with notched, single-disc row openers. In addition, an optional trailer hitch for an auxiliary tank, for use with Interplant® row units, is available. Dry fertilizer cannot be used with ASD.
This model's Twin-Line® transport system features a 7" x 7" stainless steel-clad center post with UHMW plastic pads that glide against the post as it is raised and lowered. This means no lubrication is necessary, lowering maintenance costs in terms of time and materials.
"The 3600 with ASD gives crop producers the perfect combination of toughness, functionality and increased productivity," said Veatch. "In addition, it is available with a wide variety of standard features and options, so that producers can tailor the planter's functionality to meet the demands of their operation."
About Kinze Manufacturing
Kinze Manufacturing is the recognized technology leader and innovator of planters for row-crop production in sizes from 4 row 30" to 36 row 20". In addition, Kinze Manufacturing produces grain auger carts in capacities from 850 to 1050 bushels. For more information, log onto the Kinze Manufacturing Web site at http://www.kinze.com.
©Copyright 2009 by Kinze Manufacturing Inc. All rights reserved. Kinze®, the Kinze™ logo, Cobalt®, EdgeVac® and Twin-Line® are trademarks owned by Kinze Manufacturing, Inc. Kinze Manufacturing, Inc. reserves the right to make changes in engineering, design and specifications, or add improvements at any time without notice or obligation.
# # #