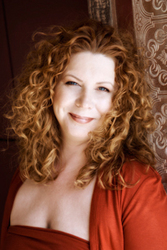 ...the series New York Times best selling author Kelley Armstrong called, "Steamy with the perfect mix of drama and humor"
San Diego, CA (PRWEB) May 5, 2010
This past weekend San Diego author, Samantha Sommersby enjoyed her day in the sun when the first book in her urban fantasy/paranormal romance series, Forbidden: The Sacrifice, landed in the #1 spot on Amazon's romance best seller list.
The award-winning series, initially published by Linden Bay as novellas, has recently been re-released in digital format by Samhain Publishing, Ltd. as full-length novels with bonus content. Samhain is offering The Sacrifice this week on the Kindle and Nook for free. Pre-orders for the print versions, which begin to release in July, are rapidly climbing. "An incredible amount of exposure comes with a single digit ranking on Amazon. I'm very grateful. The entire series is suddenly getting a tremendous amount of attention," said Sommersby, who left what she used to call her "real life" job as a psychotherapist to pursue a career as a writer.
Other titles in the series New York Times best selling author Kelley Armstrong called, "Steamy with the perfect mix of drama and humor", include The Ascension, The Revolution, and The Temptation.
Samantha Sommersby is the author of over a dozen novels and novellas, including the critically acclaimed Forbidden series. Sam happily spends her days immersed in the world of the Forbidden, a world where vampires, werewolves, and demons are real, where magic is possible, and where love still conquers all. To learn more about Sam's books or to sign up for her monthly newsletter visit http://www.samanthasommersby.com .
###