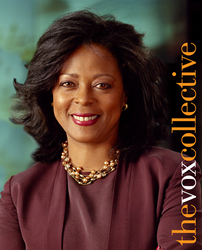 The 85% Niche – The Power of Women of All Colors
New York (Vocus) May 5, 2010
Boutique advertising agency the vox collective (http://www.thevoxcollective.com) announced today a series of key executive decisions to expand its positioning and focus on emerging marketing priorities, including multicultural marketing, digital and social strategies and media, cause-related marketing, and branded content.
Joining the firm as Vice President of Client Services and Strategy is marketing communications maven Miriam Muléy. A former agency client of many years, Miriam brings a breadth of experience in business planning, strategic marketing, as well as a career specialization in marketing to women. Miriam also has extensive experience developing next generation programs to engage a new emerging majority, including the Hispanic, African-American, and Asian segments.
As part of an accomplished career Miriam was the former head of General Motors' Center of Expertise on Diversity, driving multicultural and global strategies for all the GM brands. She also served as General Manager at Avon Products, Inc., where she was responsible for product development, merchandising, advertising, promotion and research for Women of Color, generating sales across cosmetics, fragrance, skin care, toiletries, apparel fashions, and gift and decorative items. She is also the author of "The 85% Niche – The Power of Women of All Colors," and holds an MBA in Marketing from Columbia University's Graduate School of Business.
"Miriam is a great addition to our team as we expand our strength and focus in creating brand stories and programs inspired by a more multicultural America, and a more connected global consumer and media landscape. We will also leverage her extensive experience in engaging women, indisputably the most important consumer segment," commented Roberto Ramos, President & CEO of the vox collective.
"I have worked with the vox for many years and have seen first-hand how they are able to generate results through their strategic insights, entrepreneurial drive and breakthrough creativity. I'm very excited to be part of this team and I look forward to milestone projects and growth with existing and future clients," commented Miriam Muléy on her new role.
In addition to Miriam's appointment, the vox collective has also promoted Carolina Dammert to Assistant Vice President. Carolina is focused on driving client growth through marketing and media strategies, and by managing the creative direction of the multiple forms of brand statements the agency produces, including brand campaigns, grassroots and public relations, branded content, and digital assets and campaigns among others.
Two other agency additions come via the media planning and buying team. Ana Aguilar joins the agency as media director. She comes to the agency with extensive media, agency and client experience at companies such as DIRECTV, Univision, and Starcom Mediavest. Supporting Ana is Rebecca Zabal, Associate Media Director. Rebecca comes to the agency with media experience at companies like The Walt Disney Company, The Sloan Group and Mediacom.
About the vox collective
The vox collective (http://www.thevoxcollective.com) is an advertising and marketing agency fueled by creativity, innovation and collaboration, and focused on emerging marketing priorities, including multicultural, digital, and cause-related marketing. Agency clients include Macy's, Bloomingdale's, Fifth Third Bank, The Office of National Drug Control Policy, and Verizon Wireless among others.
Media Contact:
Carolina Rincón
646-367-3371
###