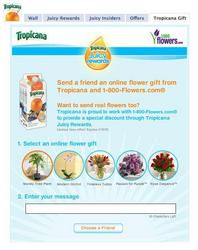 Chicago, IL (PRWEB) May 5, 2010
The Mother's Day tradition of serving breakfast in bed alongside a vase of beautiful flowers can be a lot easier, and less expensive, to achieve this year thanks to the Tropicana Juicy Rewards program. Tropicana has teamed with 1-800-Flowers.com, Inc. (NASDAQ:FLWS), the world's leading florist and gift shop, to offer up to $15 off a purchase of $49.99* or more by redeeming three Juicy Rewards points by May 10, 2010. Visit Tropicana Juicy Rewards for complete details.
Explore the "Every Mom Counts" collection at 1-800-Flowers.com to find the perfect bouquet to celebrate all of the moms in your life. Do you have a lot of moms you want to honor this year? Connect with Tropicana on Facebook and send each of them an online flower gift with a personal message.
"Tropicana is really waking up the juice aisle with the Juicy Rewards program," said Andrew Hartshorn, senior marketing manager, Tropicana. "We're excited to add 1-800-Flowers.com to this first-of-its kind program that gives people more from their juice by offering 20,000 ways to save on fun, healthy pursuits."
About Tropicana Juicy Rewards
The 1-800-Flowers.com offer is just one of the more than 20,000 ways you can save with Tropicana Juicy Rewards. Other rewards include discounts on museums, sports equipment and athletic apparel, and spa treatments and other treats perfect for mom – from both national and local partners.
Participation in Tropicana Juicy Rewards is easy. Buy specially marked Tropicana Pure Premium orange juice or Trop50, go to tropicana.com to register, and enter your codes to get points that you can redeem immediately. One carton of Tropicana orange juice is worth up to $15 in savings, and one carton of Trop50 is worth up to $30 in savings.
For more information, news and deal updates, visit tropicana.com, fan Tropicana on Facebook and follow us on Twitter.
About 1-800-FLOWERS.COM
1-800-FLOWERS.COM, Inc. is the world's leading florist and gift shop. For more than 30 years, 1-800-FLOWERS® (1-800-356-9377 or 1800flowers.com) has been providing customers with fresh flowers and the finest selection of plants, gift baskets, gourmet foods, confections, balloons and plush stuffed animals perfect for every occasion. As always, 100% satisfaction is guaranteed. 1-800-FLOWERS.COM earned the 2009 Gold Award in the Online Flower Delivery category from TopTenREVIEWS; the Company's Mobile Flower & Gift Center was named winner of the RIS (Retail Info Systems) 2010 Mobile App of the Year Award in the "Best Shopping" category and the Company was recognized by Computerworld magazine as a Premier 100 IT Leader for 2010. The Company's BloomNet® international floral wire service (mybloomnet.net) provides a broad range of quality products and value-added services designed to help professional florists grow their businesses profitably. The 1-800-FLOWERS.COM, Inc. "Gift Shop" also includes gourmet gifts such as popcorn and specialty treats from The Popcorn Factory® (1-800-541-2676 or thepopcornfactory.com); cookies and baked gifts from Cheryl&Co.® (1-800-443-8124 or cherylandco.com); premium chocolates and confections from Fannie May® confections brands (fanniemay.com and harrylondon.com); wine gifts from the Wine Tasting Network® (winetasting.com) and Geerlings&WadeSM (geerwade.com); gift baskets from 1-800-BASKETS.COM® (1800baskets.com) as well as Celebrations® (celebrations.com), a premier online destination for fabulous party ideas and planning tips. 1-800-FLOWERS.COM, Inc. is involved in a broad range of corporate social responsibility initiatives including continuous expansion and enhancement of its environmentally-friendly "green" programs as well as various philanthropic and charitable efforts. Shares in 1-800-FLOWERS.COM, Inc. are traded on the NASDAQ Global Select Market, ticker symbol: FLWS.
About Tropicana Products, Inc.
Tropicana Products, Inc., a division of PepsiCo, Inc., is the leading producer and marketer of branded fruit juices. Tropicana markets its products in the U.S. under a variety of brand names, including the Tropicana not-from-concentrate line of juices: Dole® juices and juice blends; Tropicana Pure 100 percent Juice Blends; Tropicana® Juices and Tropicana Twister® juice beverages. The Dole brand name is licensed from Dole Food Company, Inc. For more information about Tropicana, visit Tropicana.com.
About PepsiCo
PepsiCo (NYSE: PEP) is one of the world's largest food and beverage companies, with 2007 annual revenues of more than $39 billion. The Company employs approximately 185,000 people worldwide, and its products are sold in approximately 200 countries. Its principal businesses include: Frito-Lay snacks, Pepsi-Cola beverages, Gatorade sports drinks, Tropicana juices and Quaker foods. The PepsiCo portfolio includes 18 brands that generate $1 billion or more each in annual retail sales. PepsiCo's commitment to sustainable growth, defined as Performance with Purpose, is focused on generating healthy financial returns while giving back to communities the Company serves.
This includes meeting consumer needs for a spectrum of convenient foods and beverages, reducing the Company's impact on the environment through water, energy and packaging initiatives, and supporting its employees through a diverse and inclusive culture that recruits and retains world-class talent. As a member of the DowJones Sustainability World Index (DJSI World) and the Dow Jones Sustainability North America Index (DJSI North America), PepsiCo is a recognized leader in sustainability. For more information, please visit pepsico.com.
###