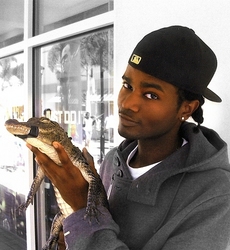 When asked how he came up with the new song "Sour Sugar," C.KhiD's answer is simply "beautifully evil women" with a laugh.
New York, NY (PRWEB) May 5, 2010
New Songs "Sour Sugar" and "Wonderful Girl" are creating a Pop culture and Hip Hop music buzz for new music artist C.KhiD. Perhaps the only youtube artist that gets the opposing comments "I don't really like rap but I like you" and "you are real hip-hop" regularly, he's become an uncanny phenomenon. Now with music video "Sour Sugar" released on Youtube, the summer temperature may raise his value.
"I love writing new songs. I'm glad the CKHID team, fans, iTunes, Myxer, and WorldStarHipHop continually supported me. Really blessed to have these guys in my reach. And of course, thank goodness for the pretty women of all kinds that love my music (laughing)," says C.KhiD
What could be better than generating a buzz worldwide from a new song you made at home? Imagine getting calls from legitimate agencies wanting to represent you and saying you are worth a possible $2MM to $4 million dollars. That's the story of C.KhiD currently, a young gun struggling and waiting to blow the new music scene away with songs about life, love, and sneakers.
When asked how he came up with the new hip hop song "Sour Sugar," C.khiD's answer is simply "beautifully evil women" with a laugh. A fan of the 60s and 70s music era, the hip-hop 2010 generation rapper brings a feel of positivity and inspiration through his music.
"My music is for everyone. I can tell you about being poor and sleeping with roaches when I stayed at my Grandma's and life at home with my parents that worked hard to move my fam to a developing city. I don't completely fit in with any group and I kick it with all people. Poor, rich, white, latin, black, is all in my family so I'm cool with everyone" says C.KhiD.
A business prodigy at an early age, C.KhiD turned his love for Hip Hop into a business exiting high school. Soon after, he found himself launching and maintaining the first Urban clothing site on-line, Sojones.com. Getting more into sneakers as he gained financial freedom, he most recently launched a sneakers culture website for his 21st birthday.
Over 2.5 million worldwide have played C.KhiD's new songs and videos. His face is well-known because of his knack for creating on-line. On iTunes, thousands have purchased his songs and two "Black Box Dreams" albums as strong supporters.
Creating from home with long term engineering partner Carlos Paez of Los Beats, summer continues the independent rise of C.KhiD. The liberated time period promises a slew of new songs for clubs, iPods, youtube, and television. Be sure to view the official C.KhiD youtube channel to watch music videos and new hip hop 2010 songs created free.
The new music video for "Sour Sugar" is available on Youtube. Hoping to get on national tv networks BET, VH1, and MTV again, the song's sure to make Hip Hop and Pop culture couples see a bit of their own relationship in the song.
The "Sour Sugar" music video co-stars former Miss South Carolina USA pageant model Ashlea Sherman. Both entertainers, the video reminds everyone a little bit of themselves when in a relationship. They all come with the good and bad. . See video by visiting the youtube link below:
http://www.youtube.com/watch?v=cA-MaYW7YY4
Summer touring is being planned for C.KhiD currently. E-mail Rodrick Rainey for booking and DJ requests in US and internationally. Call 212.400.0698 for immediate business interests.
###