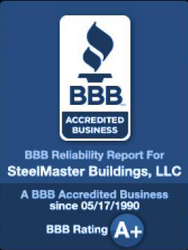 "We are proud of our A+ record with the BBB because it means we are achieving our goal of providing the highest standards of quality products and customer service possible. "
Virginia Beach, VA (PRWEB) May 6, 2010
When it comes to customer service, ethics, and integrity, SteelMaster Buildings means business. The company's commitment to high standards has earned them an average A+ rating for two decades with the Better Business Bureau (BBB), a consumer organization that monitors a company's record of addressing customer complaints. A company affiliated with the organization agrees to conform to the BBB's code of business practices and accedes to cooperate with them to resolve any disputes. According to the BBB, an A+ rating is exemplary and means that they have no doubt about the company's trustworthiness.
"We are proud of our A+ record with the BBB because it means we are achieving our goal of providing the highest standards of quality products and customer service possible," says Michelle Wickum, SteelMaster's director of marketing. "For 29 years we have been setting the standard of excellence and innovation in the industry while delivering the best products available, and we will continue to do so."
SteelMaster Buildings, which is based in Virginia Beach, Va., is a leading provider of factory-direct, pre-fabricated steel buildings and has more than 40,000 satisfied customers world-wide, including buildings located in every state in the United States, on six continents, and in more than 40 overseas countries.
SteelMaster steel buildings, metal buildings, and prefabricated buildings are designed for a broad range of residential and commercial applications, including:

Workshops
Carports
Agricultural Storage
Metal Barns
Airplane Hangars
RV Storage
Roofing Systems
Storage Buildings
Military Buildings
Commercial Warehousing
Metal Sheds, and
Industrial Storage
"It is very important that individuals investigate the BBB record of any company that they are dealing with," says Wickum. "An A+ rating shows that a company is dedicated to building fair and honest relationship with consumers, and people shouldn't settle for anything less. Our BBB accreditation highlights our quality, integrity and ethics."
For more information about SteelMaster Buildings and its products, visit the web site at http://www.steelmasterbuildings.com.
About the BBB:
The BBB is a private, non-profit organization developed to monitor and report on the business practices of companies. Each BBB is licensed by the council of Better Business Bureaus, and governed by its own local Board of Directors. The BBB is not part of the government and is supported primarily by dues paid by local business members.
The purpose of the BBB system is not to act as an advocate for businesses or consumers, but to act as a mutually trusted intermediary to resolve disputes, to communication, and to provide Reliability Reports on companies. Businesses have supported the BBB for over 80 years because an ethical, self-regulated marketplace is in everyone's best interest.
###