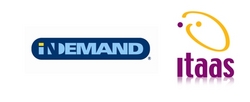 Atlanta, GA and New York, NY (PRWEB) May 5, 2010
itaas, Inc. and iN DEMAND L.L.C. today announced the development of three new first-of-their-kind interactive applications to promote cable's transactional products. Included in this suite are sports package marketing, content mosaic and multi-platform event reminder applications. These exciting new apps will be demonstrated in the itaas booth (#439) at The Cable Show in Los Angeles from May 11-13, 2010.
iN DEMAND and itaas developed these applications with an eye towards leveraging the power of EBIF and tru2way to become revolutionary new marketing tools that promote cable's on demand and PPV products. At The Cable Show, itaas will be showing three different approaches that will leverage cross-platform promotion, upsell opportunities and event reminders. The applications, such as an Interactive Mosaic, will help inform consumers of Movies on Demand (MOD); live events including boxing, UFC and WWE; and out-of-market sports packages such as NBA League Pass.
These new and compelling user interfaces allow consumers to quickly and easily navigate through interactive screens to learn more about various programming. The new applications are:
•Interactive Mosaic App: A four-screen sales tool which promotes all categories of cable's transactional products, from sports and events to Movies On Demand. Using their remote, viewers can telescope deeper into the content to see product-specific videos, program descriptions, trailers, schedules & more.
•Sports Package Upsell App: Dynamic interactive replacement for the current static slate on out-of-market sports packages will deliver promos, schedules, product descriptions, pricing, ordering information & more.
•Send to Cell Phone App: This new multi-platform application will add pop-up notifications during on-air promos, enabling viewers to send PPV event reminders to their cell phones.
"iN DEMAND is always looking for innovative ways to use the latest technology to provide MSOs with advanced promotional tools for transactional products," said Bob Benya, President & CEO of iN DEMAND. "These new applications we've developed with itaas illustrate dynamic ways of engaging with consumers as well as driving revenue."
"Interactive applications can provide ubiquitous access to promotional efforts," stated Vibha Rustagi, CEO of itaas. "iN DEMAND is thinking outside the box in leveraging the capability of EBIF and tru2way to promote and locate content. itaas continues to excel at creative interactivity that significantly enhances the effectiveness and reach of applications."
itaas specializes in "interapptivity", facilitating the development and deployment of application content across multiple platforms. itaas' portfolio of services includes a full range of software design, development, integration, deployment and support services for MSOs, Programmers, Application Developers and Technology Providers. In addition, itaas supports the development and deployment of interactive applications and services through the istart developer program. This program offers SDKs and support for Time Warner Cable's MDN, ODN and MAS software, Cisco's SARA/PowerTV and OCAP Axiom, FourthWall Media's EBIF user agent and the TVWorks ETV platform. Recently, itaas also announced support for enhancements to the SARA guide and testing services for DTA devices.
About itaas, Inc.
itaas plays a unique, multi-faceted role in developing and delivering interactive television. The company reaches across the entire iTV ecosystem to ensure that customers are able to develop and deploy applications, including ETV, tru2way, and IP solutions across multimedia devices. itaas provides software development, integration and testing services to the content and application provider across the broadband network and all the way to the set-top box or consumer device.
For over 10 years, itaas has worked with all iTV constituents; service providers, technology suppliers, application developers and programmers to create and bring iTV solutions to market. This includes ETV platform licensing, SARA guide enhancements and support, and next-generation/IP technologies. With advanced digital development expertise, tools, lab facilities and deployment support across a broad range of cable TV and IPTV platforms, itaas has developed many of today's most recognized white-label interactive applications. The company is headquartered in the U.S. with international facilities and more than 100 customers worldwide.
http://www.itaas.com
About iN DEMAND L.L.C.
iN DEMAND L.L.C. is the pioneer and world leader in providing exciting transactional entertainment delivered through television's most innovative technologies. iN DEMAND creates and delivers programming through cable Pay-Per-View (PPV), Video-On-Demand (VOD) as well as on digital platforms. PPV programming includes movies, boxing, wrestling and mixed martial arts events and the out-of-market subscription professional sports packages for MLB, the NBA, the NHL and MLS. The company also offers a range of VOD products including first-run movies and serves as the exclusive TV home of Howard Stern via its Howard TV On Demand offering. Content is delivered in both Standard and High Definition. iN DEMAND's owners are Comcast iN DEMAND Holdings, Inc., Cox Communications Holdings, Inc., and Time Warner Entertainment - Advance/Newhouse Partnership. Further information about the company can be found at http://www.indemand.com
###