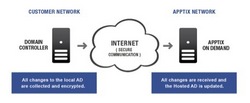 Herndon, VA (PRWEB) May 5, 2010
Apptix (OSE: APP), the leading provider of hosted Microsoft Exchange email, Microsoft SharePoint, and business VoIP services for businesses worldwide, today announced the availability of an Active Directory Synchronization (AD Sync) tool. The Apptix AD Sync tool automatically synchronizes changes in on-premise Active Directory databases to Apptix's hosted Active Directory. This service provides customers with a single point to create and manage user accounts and instantly provision Apptix services. The tool further enhances the end user experience by synchronizing local domain passwords with Apptix's domain for a unified sign-in experience.
"Our AD Sync tool makes managing hosted services within larger businesses simple and efficient," said James Bond, Vice President of Product and Software Development with Apptix. "By streamlining the process to create and instantly provision new accounts, manage and modify existing accounts, and eliminating the need for multiple passwords, we've made hosted services even more appealing to midmarket and enterprise IT departments. Now, there's no reason not to consider a switch to the cloud for communication and collaboration services."
The AD Sync tool is a secure agent installed in a customer's network and transmits encrypted updates over a secure internet connection to the Apptix OnDemand network. All synchronization is one-way from the customer's AD to Apptix's platform (See diagram).
Changes by a customer administrator to the corporate Active Directory – such as creating, deleting, or changing users, contacts, distribution lists, or passwords – are automatically synchronized with Apptix's network directory. Newly registered AD users can be instantly provisioned with Exchange mailboxes, SharePoint site access rights, and Live Meeting Web Conferencing or Communicator Secure Instant Message accounts. Customers have the flexibility to customize when and what data is synchronized with Apptix.
The tool enables new customers to migrate to Apptix's network more easily by simply duplicating their Active Directory structure with Apptix using this new AD Sync utility.
Additional features of Apptix AD Sync include:

Selective Attribute synchronization – customers can limit the attributes to be synchronized
Address Book Synchronization – Changes to contacts in the local Directory can be automatically propagated to the hosted Address Book
Configurable Synchronization – All data synchronization can be configured by the administrator from Apptix's Control Panel with the ability to configure what and when data is synchronized
The AD Sync utility from Apptix is now available. For more information, please visit http://www.apptix.com/hosted-email/adsync.asp.
About Apptix
Headquartered in Herndon, Virginia, Apptix (OSE: APP) is the leading provider of business-class hosted email, voice, and collaboration services for 200,000 users worldwide. A pioneer in the hosted services space, Apptix and its MailStreet subsidiary offer a variety of communications and IT services including: Microsoft Exchange plus Outlook Voice Access; VoIP; Microsoft SharePoint; Web Conferencing and Secure Instant Message and Presence via Microsoft Office Communications Server; Online Backup by EMC's Mozy; mobile email (including BlackBerry, Palm, Android, Windows Mobile, and iPhone); compliant archiving; and a Web presence solution that includes domain registration, DNS hosting, and Website hosting. Apptix is a Microsoft Gold Certified Partner for Hosting and Application Services. Apptix is recognized as one of the CRN 2009 & 2008 Fast Growth 100, Deloitte's 2009 & 2008 North American Technology Fast 500, Software Magazine's 2009 & 2008 Software 500, Washington Business Journal 2009 & 2008 Fastest Growing Companies, as a finalist in the Customer Service and Product Departments categories for the 2009 American Business Awards (Stevie Awards), and as a 2009 Microsoft Worldwide Partner Conference Awards finalist in the Unified Communications Solutions category. For more information, visit http://www.apptix.com or follow at http://www.twitter.com/apptix.
Product or service names mentioned herein may be the trademarks of their respective owners.
###