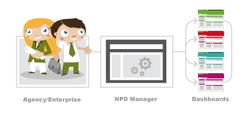 Unlike other enterprise or content management systems, Netvibes Premium Dashboards were co-designed with top global agencies and brands...to fit the fast-paced workflow of modern marketers who need to continually adapt to the real-time Web.
San Francisco, CA (PRWEB) May 5, 2010
Netvibes (business.netvibes.com) is known to millions of consumers and thousands of marketers as the best way to monitor real-time conversations and media on the Web. Today, Netvibes Premium Dashboards, the leading real-time dashboard publishing platform for interactive agencies and brands, adds a powerful suite of new tools--Netvibes Premium Dashboard Manager--to help rapidly build and manage entire dashboard portfolios to scale and meet a myriad of different real-time brand monitoring needs, from tracking multiple product lines to evaluating different competitors, managing e-reputations, or keeping up-to-date on many new industry trends.
"Top agencies and brands around the world rely on Netvibes Premium Dashboards to monitor the real-time Web. Based on this success, many businesses now want to create many different dashboards for different needs: offering brand monitoring rooms for clients and partners; tracking multiple product lines, campaigns, locations or trending topics; engaging new online communities; or creating workplace dashboards to support HR, sales or product marketing teams," said Freddy Mini, CEO Netvibes. "Today, we're proud to introduce the industry's first solution to help agencies and brands rapidly publish and manage entire dashboard portfolios to adapt and scale to meet an infinite number of clients, customers and real-time business needs."
Netvibes Premium Dashboards can be used for:

Brand Monitoring - Track clients, customers and competitors across hundreds of media sources all in one place, analyze live results with dozens of 3rd party reporting tools, and provide real-time media monitoring dashboards for brand clients.
E-Reputation Management - Visualize real-time Twitter conversations and social activity feeds, and track new trending topics with "drag-and-follow" smart widgets.
•Product Marketing - Create fully interactive product microsites in minutes, with our award winning drag-and-drop publishing interface.

Community Portals - Engage online communities by offering each user the ability to personalize their own unique startpage and send live community updates with instant push publishing tools
Personalized Workspaces - Boost productivity by creating workplace dashboards that gather all essential company updates, industry news, and enterprise tools each team needs all in one place, personalized to support specific divisions (ie. sales, marketing, HR) and localizations.
Dashboard Publishing Reinvented for Interactive Marketers and Brands
Netvibes Premium Dashboards was specifically designed for and by marketers who need to quickly adapt to new trending topics and real-time client needs. "Unlike other enterprise or content management systems, Netvibes Premium Dashboards were co-designed with top global agencies and brands," adds Charles Viard, Netvibes Director of Professional Services. "Marketing managers wanted to quickly build their own real-time media monitoring, client, product and community dashboards, and manage it themselves--with zero technical worries or waiting. So we completely reinvented dashboard publishing and management to fit the fast-paced workflow of modern marketers who need to continually adapt to the real-time Web."
Only Netvibes features a built-in content library of more than 185,000 widgets and fully licensed content feeds, real-time push notification, powerful visual layout tools and an award-winning drag-and-drop interface that make it easy to build fully branded real-time media dashboards--all with zero programming involved. Premium Dashboards can be fully hosted (SaaS) or available on premise (Netvibes for Enterprise). It's also proven to scale to millions of users and can be embedded seamlessly within any domain, Moreover, Premium Dashboards offers a value-added service that agencies can monetize and offer to clients, who need help monitoring the real-time Web.
Starting today, Netvibes Premium Dashboard Manager now adds a suite of powerful new tools for quickly publishing and managing multiple dashboards and different types of users. It's easy to build new dashboards on the fly in just a few clicks, simply by entering a keyword into an instant dashboard wizard that automatically builds smart dashboards for you, or by replicating and revising existing dashboards as templates. Push publishing features enable publishers to instantly send live user notifications. Centralized administration features enable managers to self-manage billing and premium features, including single sign-on (SSO). Finally, Netvibes Dashboarding Guide makes it easy to find and install powerful third-party analytic and business tools. These new features make it easy to create and manage entire dashboard portfolios to meet the needs of different clients, customers, internal teams or divisions.
New user management tools also make it easy to set up different access levels for different types of users. For example, an agency account manager might have full control to build, publish and edit a brand monitoring dashboard for a specific client, but would not have access to other dashboards for agency clients. The agency director can have view-only access to all dashboards for all clients and a specific client can have view-only access to their dashboard only.
Already more than 1,500 brands, enterprises and media publishers rely on Netvibes' widget and dashboard publishing technologies, including AT&T, Nestle, BMW, Nissan, Samsung, T-Online, Fast Company, The Financial Times and Pages Jaunes--with more than half a billion widgets served to millions of consumers around the globe every month. Read what top interactive agencies and industry associations--including Ogilvy PR, Tribal DDB, WeissComm Group, Rumeur Publique, CRM Company Group and The Advertising Research Foundation (ARF)--have to say about Netvibes Premium Dashboards here: http://blog.netvibes.com/new-netvibes-premium-dashboards-help-global-agencies-monitor-real-time-brand-conversations-and-share-industry-expertise/.
For more information about Netvibes Premium Dashboards or to schedule a personalized demo, visit: http://business.netvibes.com/premium-dashboard.php
About Netvibes (http://business.netvibes.com)
Founded in 2005, Netvibes pioneered the first personal dashboard publishing platform for the real-time Web. For consumers, Netvibes.com is the most awarded dashboard engine that helps millions of people around the world instantly dashboard everything that matters to them most. For agencies and publishers, Netvibes' universal widget technology (UWA), widget distribution services and Premium Dashboards help rapidly deliver brand observation rooms and user-personalized marketing campaigns. For companies, Netvibes Enterprise delivers secure, scalable personal workspaces, portals and industry dashboards.
Today, Netvibes powers personalization for more than 1,500+ of the world's leading brands, interactive agencies, government organizations, non-profits and enterprises--serving more than half a billion widgets every month. Netvibes has offices in Paris, London and San Francisco.
Media Contact:
Vincent Chang
415-806-1769
###