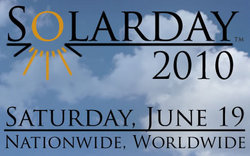 San Francisco, CA (PRWEB) May 5, 2010
What's new for SolarDay 2010? How about a national Solar Sweepstakes.
It's free to enter the $5,000 solar sweepstakes on the SolarDay website (http://www.solarday.com) to win a chance at a $5,000 credit off a residential or commercial solar installation for homeowners in the U.S.
Really Reducing Your Monthly Energy Bills
Why enter? Energy prices are going up, again. People with solar installations on their homes and businesses can dramatically reduce their monthly energy bills. And, there are many incentive and rebate programs that can reduce the cost of a solar installation by nearly half. Plus, new programs allow you to pay off your solar installation through your property taxes and other methods. Some solar companies will install a solar installation at no cost – and simply charge you for the electricity you consume – at a guaranteed rate with no surprises.
You Can't Win if You Don't Enter!
Check out the SolarDay 2010, Solar Sweepstakes at: http://www.solarday.com.
Somebody will win a $5,000 credit for a home or business solar installation. With existing government rebates, that credit can be worth close to $10,000 off the cost of your installation.
You can't win if you don't enter.
###