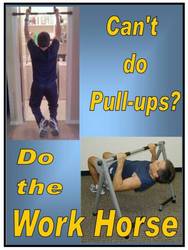 Push-ups only target half your upper body...pull-ups train the other half
Dallas, TX (PRWEB) May 11, 2010
Every fitness professional knows the two best exercises to add shape and tone to your upper body are push-ups and pull-ups.
Unfortunately most women can't do pull-ups and most men who have gained a few pounds or a few years can't do pull-ups either.
This forces a lot of people to neglect half their upper body because they can't do pull-ups. This leads to muscle imbalance and a contributing factor for people suffering with upper back and neck pain.
The "Work Horse Trainer" created by nutrition and fitness expert Dr. Len Lopez solves that problem by allowing the user to 'off-load' a third of their body weight so everyone can do modified pull-ups. The Work Horse Trainer has been given an excellent review from PFP Magazine, the trade journal for personal trainers.
The Work Horse Trainer is designed to do two body weight exercises, push-ups and pull-ups!
Push-ups train your chest, shoulders and triceps - half your upper body!
Pull-ups train your back, biceps and forearms - the other half of your upper body!
The Work Horse Trainer is the perfect piece of equipment for anyone who exercises at home. It is designed to allow the person to 'off-load' a third of their body weight so everyone can benefit from doing modified pull-ups. The fact that less than 15% of the population can do pull-ups is all the more reason everyone should have a Work Horse as part of their home equipment.
The benefits of a modified pull-up or Australian pull-up as they are also referred to are similar to a free standing pullup, but instead of having to pull your entire body weight up, the Work Horse Trainer allows the user to only have to pullup about a third of their body weight. This allows everyone to finally train their back, biceps and forearm muscles that are often neglected for the simple fact that most people can't perform pull-ups.
What's great about the Work Horse is that after finishing a set of pull-ups, turn over and use the padded handles and pump out some push-ups. The raised handles allow for a deep, full stretch and takes a lot of the strain off the wrists, which is beneficial for those who may struggle with wrist problems.
Dr. Lopez expertise as a chiropractic sports physician and strength and conditioning coach made him more aware of a need for a product like this. Plus his wife wouldn't let him hang a chin-up bar in their new house, which further motivated him to create the Work Horse Trainer.
The biggest plus for My Work Horse is that there are No bolts or screws to attach to a doorway or closet. No one likes working out in the confines of a closet! The fact that it doesn't have to be bolted to a doorway makes it a big hit for women. Not only that the Work Horse can also be folded and stored against a wall or under a bed when not being used.
It is made of lightweight steel, which makes it easy enough to carry in or out of a car or to a boot camp, yet sturdy enough to make anyone who uses it feel like they are training with gym quality equipment.
The Work Horse has received endorsement from fitness champions, athletes, athletic and personal trainers, strength and conditioning coaches and of course doctors. Best selling author of Lean Bodies, Dr. Cliff Sheets says "I think everyone who trains at home should have a Work Horse." It's great because you can combine your favorite aerobic workout with the Work Horse to get a complete whole body workout that includes both aerobic and strength training.
Dr. Lopez is beginning to market his new fitness product online, direct to the consumer, as well as, in catalog and wholesale outlets. If you would like to learn more about the Work Horse Trainer or feature this new fitness product please call Dr. Len's office at (972) 360-6408 or send an e-mail.
###