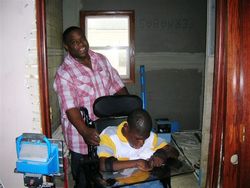 Peoria, IL (Vocus) May 5, 2010
Michael, age 14, has had a pretty challenging life but finds joy in the little things. He responds with smiles and laughter to music, especially gospel, R&B and rap. Born with congenital hydrocephalus, a buildup of excess cerebrospinal fluid in the brain at birth, Michael has significant brain damage and has endured multiple surgeries to place shunts that help relieve pressure in the brain. As the result of his condition, his mobility is extremely limited.
When Michael's family was informed that he was eligible for a wish due to his life-threatening medical condition, they were excited and overwhelmed with emotion. Working with trained wish granting volunteers from the Make-A-Wish Foundation of Illinois, Bonnie Hester and Janet Martin, worked with Michael and his family and we able to determine Michael's wish: to have an accessible bathroom. The wish will have a lasting impact for Michael as it will allow him to stay with his family as he gets bigger. Michael's parents are his primary caregivers and the physical toll of moving their son to care for his needs is getting more difficult as he grows up.
The bathroom redo wish is taking place in Michael's central Peoria home and plans include a specially designed hoist and accessible shower with a roll-in waterproof wheelchair. Community support is a cornerstone of making wishes like Michael's come true. A generous Community Care Project grant presented to the Make-A-Wish Foundation of Illinois from the Finishing Contractors Association of Illinois (FCAI) provided the initial funds. The Finishing Contractors Association of Illinois represents approximately 400 union contractors doing business in 29 counties in central and northern Illinois. In addition donations of approximately $12,000 in materials and many hours of donated labor, plus design from Mid-Illinois Companies, are helping to make Michael's wish possible.
Companies who have donated labor include:

Dan Silverthorne – West Central Illinois Building And Construction Trades Council
Carpenters Local Union 183 Peoria – Business Representative Gene Sanders / installer Eric Meyers
Warner Pluming – Owner Randy Warner / installer Jerry Mottler
Mid State Terrazzo – Joe Basso / installers Dave Weaver and David Alverez
Sheet Metal Workers International Union # 1 / Business Manager and installer Bill Comstock
Laborer Local Union 165 – Business Representative Tim Schmidgall / installers Dave Brecklin and Mike Peak
CIES Electrical – Owner Wayne Prather / installer Doug Sanders
Mid Illinois Companies, Owners Dennis Higdon, Debra Young, Adriane Lisenko, Bobby Taylor – installers Brand Slack, Dennis Clemens, Kurt Plate - Painters Jeff Hunzicker, Steve Edwards and JC Taylor – Plaster Brian Williams
Suppliers who have made material donations include:

Mid State Terrazzo / Peoria
Westmont Interiors / Peoria
CIES Electrical / Peoria
MAB/Sherwin Williams / Peoria
PDC / Peoria
SafetyED / California
Lowes / Peoria
Wish Details:
Home location: Center Bluff in Peoria
Wish construction began on Monday, April 12 and is planned to continue for the through mid-May.
Opportunities for periodic updates and before photos are available as well. Other interview opportunities with Michael's wish granting volunteers and representatives of the Mid-Illinois Companies and with the Finishing Contractors Association available upon request.
About the Make-A-Wish Foundation
The Make-A-Wish Foundation of Illinois grants wishes to children with life-threatening medical conditions to enrich their lives with hope, strength and joy. Since 1985 the Foundation has granted more than 9,000 wishes and continues its mission to share the power of a wish® with special children across Illinois. For more information or to find out how you can help contact us at 309.637.1659, toll free at 800.978.9474(WISH) or visit http://www.wishes.org.
About FCAI
The Finishing Contractors Association of Illinois represents approximately 400 union contractors doing business in 29 counties in central and northern Illinois. These firms vary in size from the very small — with owners who 'work with the tools' along with a few tradespersons — to larger companies with several employees working on numerous construction projects.
FCAI is dedicated to serving the industry through negotiating and implementing a collective bargaining agreement, and promoting safety, professional development and training, resulting in a better value to its members and the consumer. The Association serves its members through programs, services and products designed to help them run successful businesses and offers free access to PDCA (Painting and Decorating Contractors of America) Standards and MPI (Master Painters Institute) Specs. Members are also provided with weekly invitations to bid on current local projects.
About Mid-Illinois Companies
Mid-Illinois Companies is a family-owned business, and was started in 1970 by Dan Higdon as Mid-Illinois Painting and Drywall Company. The company started in the single family housing market and later expanded its services into the commercial construction market. Mid-Illinois Companies offers a full range of services for new commercial construction, remodel, and maintenance needs. For more information about Mid-Illinois Companies, visit http://www.mic123.com.
# # #