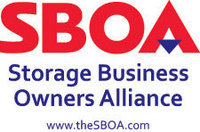 Farmington, MI (PRWEB) May 6, 2010
The Storage Business Owners Alliance LLC (SBOA), an organization which enables self storage owners and operators to decrease operating expenses and increase profitability, will host its third "how to" Webinar on Tuesday, May 11 at 2:00 PM EDT.
The 30-minute Webinar will demonstrate how owners and operators can navigate the automated features of the easy-to-use SBOA website, http://www.theSBOA.com, in order to gain access to savings from dozens of vendors, through pre-negotiated deals with the SBOA. The website also includes several options for revenue enhancement, with the overall goal of increased profitability for SBOA Members.
SBOA has seen a surge in membership since its launch in mid-February and now boasts more than 900 member-facilities in its system. "The more we build our membership, the greater our negotiating power will be," said Ian Burnstein, co-founder, SBOA. "We are thrilled that the original intent of starting the SBOA is being realized – to gain strength in numbers and provide our growing membership with enhanced buying power previously available to only the largest companies in the industry."
The SBOA was founded by Ian Burnstein and David M. Levenfeld, owners and operators of multiple self storage facilities, who realized an industry need for small- to medium-sized owners to band together to better compete with the larger storage companies.
Enrollment in the SBOA is open to any self storage facility owner or operator. For more information on the SBOA, to join, or to register for the May 11 Webinar, please visit http://www.theSBOA.com or call 248-538-1237.
###