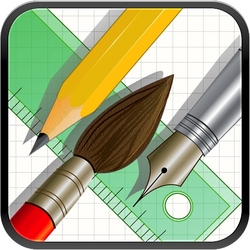 Palo Alto, CA (PRWEB) May 7, 2010
Indeeo, Inc. is proud to announce the recent release of iDraw™, an exciting new drawing and illustration application designed specifically for iPad. Originally launched with the grand opening of the iPad App Store in early April, iDraw has already received several significant updates and is currently at version 1.0.3.
With support for vector shapes, brushes, layers, text, images, fully customizable canvas styles (and much more!), iDraw is the most feature-packed vector illustration application available on iPad.
Create stunning illustrations, layouts, diagrams, photo montages - or any other design you can imagine - using the many built-in drawing tools.
Features

Vector brush and pencil tools for smooth drawing and sketching
Essential collection of shape creation tools with customization options
Powerful bezier pen tool for creating custom shapes
Multiple layer support allowing you to create intricate designs
Color picker with brightness and transparency
Multi-stop linear and radial gradient editor
Multi-line text support
Full-featured font picker
Text shape clipping
Drop shadows
Images (rotate, scale, with alpha transparency)
Customizable canvas/paper styles
Snap to grid, arrange and alignment settings
Workflow

Export designs as vector-based PDF
Copy designs as PNG images to paste into other iPad applications
Save designs to your Photos Library as PNG images
Share designs with others via email
History
iDraw started life in 2001 as a powerful, yet easy to use, illustration application for Mac OS X. At the time Mac OS X was an exciting new operating system, with few applications taking full advantage of the platform. iDraw was written from the ground up in Cocoa and Objective-C, using Quartz rendering and the many new native technologies in Mac OS X.
iDraw for iPad builds on the original foundation of the Mac version, but has been completely redesigned and re-imagined to work beautifully on iPad. With the ease and simplicity of multi-touch, and the work-anywhere mobility of the iPad, powerful illustration has never been more accessible.
Device Requirements

Compatible with iPad
Requires iPhone OS 3.2 or later
3.3 MB
Pricing and Availability
iDraw is priced at $8.99 (USD) and available worldwide exclusively through the iTunes App Store in the Entertainment category.
iDraw Website - http://www.indeeo.com/idraw/
iTunes Product Page - http://itunes.apple.com/us/app/idraw/id363317633?mt=8
Screenshot 1 - http://www.indeeo.com/idraw/images/screenshot1.png
Screenshot 2 - http://www.indeeo.com/idraw/images/screenshot2.png
Screenshot 3 - http://www.indeeo.com/idraw/images/screenshot3.png
App Icon - http://www.indeeo.com/idraw/images/idraw_icon_large.png
Indeeo, Inc. is a small young company dedicated to creating exciting Mac, iPhone, and iPad software. Located in Palo Alto, California, Indeeo was founded in 2009 by Adrian Diaconu. Prior to Indeeo, Adrian founded MacPowerUser Software in 2001, creating two popular Mac applications - MenuStrip™ and iDraw™ - and later worked as a software engineer on the iLife team for Apple, Inc. from 2002-2009. For additional information visit: http://www.indeeo.com/
Copyright 2010 Indeeo, Inc. All rights reserved. All trademarks or registered trademarks are the property of their respective owners.
###