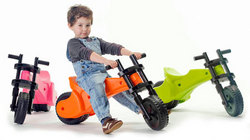 From a design standpoint, the YBIKE is a true gem.
Elkhorn, NE (PRWEB) May 7, 2010
Developed and designed in South Africa, the YBIKE has taken the Eastern Hemisphere by storm and is stirring up action in the United States as well. Fat Brain Toys, the leading online retailer of specialty toys, searches the world to bring rare and innovative toys to children. YBIKE shines within their collection of toys valuable in child development.
The new children's bike design YBIKE makes its debut this spring. YBIKE and its sibling, YBIKE Extreme, have proven to increase the rate growth in children's physical development and enhance acquisition of essential mobility skills. Ingenious YBIKE makes learning to ride a bike effortless for children as young as 2 years.
A research study from the Stellenbosch University Department of Sports Science in South Africa found that children who had opportunity to play on YBIKES for 20-30 minutes twice a week, performed significantly better in tasks requiring both dynamic and static balance and leg coordination.
Play on YBIKES has been noted for widely increased abilities in mastery of balance beams and climbing a jungle gym.
New YBIKE Ensures:

Growth of motor skills & sensory integration
Improved confidence
Safety & protection from injury
Practical, genius construction
Growth of Motor Skills & Sensory Integration
Created to help a child's balance & coordination skills progress naturally, the design of YBIKE maximizes gross motor development. Seating is farther forward than on traditional bikes so kids can freely extend their leg stride. And there are no pedals. Kids practice uninhibited, bilateral, coordination of movement as they propel themselves along. YBIKE'S wide seat encourages independent balance, yet its compelling two-wheel design offers significant challenge in maintaining that balance. Absence of pedals and brakes means kids rely on their own footwork; motor skills improve quickly and effortlessly. Additionally, the YBIKE offers sensory integration experiences – refining neurological processes and body awareness (sense of touch, sense of balance -vestibular, and sense of where the body and its parts are in space –proprioceptive) through meaningful play.
Improved Confidence
In a split second they are off, with feet skimming along the ground, trotting while they sit perched on the YBIKES comfortable design. Their balance is aided by a wide seat, stable wheels. Mobility improves rapidly with no pedals present to trip them up! "Look Mom, I'm riding my bike!"
Safety & Protection from Injury
YBIKE'S front wheel is designed for wide turns so the occasional tip-over is nonexistent. High body provides clearance of obstacles. Large wheels absorb impact making a safer, smoother ride even on rough, uneven surfaces. Seating is way forward in placement on YBIKES and the back wheel is covered, so that kids can freely extend their leg stride as long as they like without any risk of injury from wheels.
Practical, Genius Construction
Looks smart, high quality, and it's also tough! Injection molded construction eliminates weak points and provides sleek curves. Superior, brilliant finish. Lightweight yet sturdy, kids can maneuver YBIKES easily. Two size options just right for children. Quiet inside and outside. Tread does not readily pick up rocks and debris from outside when the bikes are brought in for play! Durable to last for years of play.
"We were impressed with YBIKE and feel our customers will be as well. In terms of aiding in child development, research has already proven its merit. From a design standpoint, the YBIKE is a true gem. As for being well-received by kids… we're confident it is right on target with their spirit of adventure." Mark Carson, President of Fat Brain Toys.
YBIKE and YBIKE Extreme are now available in the United States at http://www.FatBrainToys.com
About Fat Brain Toys:
Begun as a literal garage startup in 2002, husband and wife team Mark & Karen Carson have grown their company into one of the largest independent retailers of specialty educational toys in the country. Twice recognized as one of the fastest growing e-retailers by Internet Retailer magazine, Fat Brain Toys credits their rapid growth to offering quality toys coupled with truly remarkable customer service.  Fat Brain Toys is "a smarter way to play"!  Visit http://www.FatBrainToys.com for more information.
###