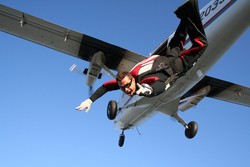 We need some help to get to $60,000 and I know we'll find it. The event is fast approaching, I'm training hard, and I hope to have a really good turnout of people to support me that day
Savage, MN (PRWEB) May 6, 2010
No one has to tell Kevin Burkart to "go take a flying leap." He will do it 200 times on Wednesday, June 16, 2010! Burkart, a 39-year-old businessman from Prior Lake, Minnesota, plans to do 200 skydives in one day to raise $60,000 for the Parkinson Association of Minnesota and the National Parkinson Foundation, and educate people about Parkinson's Disease.
Burkart undertook a similar effort in 2008 when he completed 100 skydives in a day. Kevin's dad, Gary Burkart, was diagnosed in June 1999 with Parkinson's Disease, and Kevin began to look for ways to educate others and raise money for Parkinson's research. He served on the Parkinson Association of Minnesota board from 2005-2007, but he wasn't satisfied with that contribution. Looking to his hobby of skydiving, "The 200 Perfect Jumps for Parkinson's Disease" project began. Kevin has already raised more than $50,000 from corporate sponsors and individual donations.
Groups and individuals can help Burkart reach or exceed his goal and honor or remember someone affected by Parkinson's disease by sponsoring one of his 200 jumps. For a donation of $100, anyone can provide the name of the person and a brief story of their experience with PD to be read over the public address system during a jump. The donor will also receive an autographed photo of Kevin Burkart skydiving as a memento. Sponsoring a jump is a very special unique gift for Mother's Day or Father's Day, birthday, or as a memorial.
Another way to support Burkart's efforts is to watch the event as it happens at Skydive Twin Cities in Baldwin, Wisconsin. In order to get all 200 jumps done in one day, Kevin will begin at 2 a.m., aiming for a landing area lit with floodlights. He hopes to conclude jumping by 9 p.m.
Dr. Steven Stein, a neurologist at Minnesota Clinic of Neurology in Edina, MN, will give an informational presentation about Parkinson's disease at 7 p.m. in the hangar.
Spectators are welcome to come anytime during the event. It's a family friendly event. There will be a large tent with seating; food, beverage and plenty of activities for kids. The "Kid's Jump for Parkinson's Disease" will include a moonwalk, jump rope and coloring contests.
"I'm excited for the event this year," said Kevin Burkart in a recent interview. "Fundraising has been going very well. We're at $54,000 raised thus far. We need some help to get to $60,000 and I know we'll find it. The event is fast approaching, I'm training hard, and I hope to have a really good turnout of people to support me that day. The Dr. Stein presentation and the Kid's Jump for Parkinson's Disease should be big draws!"
To learn more about the "200 Perfect Jumps for Parkinson's Disease" or to sponsor a jump, visit http://www.perfectjumps.com. Photographs and video from the "The 100 Perfect Jumps for Parkinson's Disease" event in 2008 are available on the website; click on the "Downloads" tab.
###