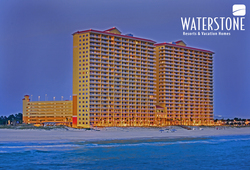 What an incredible way to showcase our great beach community of Panama City Beach and its premier resort, the Calypso Resort & Towers by Waterstone Resorts
Panama City Beach, FL (PRWEB) May 6, 2010
Waterstone Resorts & Vacation Homes the exclusive on-site vacation rental management company for Panama City Beach, Florida's Calypso Resort & Towers hosted Jeanenne Tornatore, Director, Public Relations with Orbitz Worldwide for a series of live and taped media spots promoting beach travel and the advantages of vacation rental accommodations. The event was held on April 22, 2010 and included live media interactions with local television news teams from areas such as Detroit (WJBK - FOX), Salt Lake City (KSL - NBC), Greensboro (WGHP - FOX), and Sacramento (KTXVL - FOX).
To view video clips of the markets above please visit the Waterstone Resorts Press Room page.
Additional markets reached with both television and radio spots include Kentucky, North Carolina, Texas, Oregon, New York, Indiana, Alabama, Utah, Virginia, Michigan, Georgia and California. The message in the media tour was focused on affordable, family orientated travel in destinations you might not be familiar with. Orbitz made clear reference to the benefits and value of professionally managed vacation rental condominiums and homes for family travelers. Locally, Panama City Beach was presented as a wonderful place to vacation with an abundance of quality resorts, amenities and family friendly entertainment. Orbitz also made mention of the soon to open Northwest Florida Beaches International Airport in Panama City as an exceptional way to travel to the area and bundle vacation rental accommodation with highly competitive airfare. The Waterstone Resorts Tiki Bar at Calypso Resort & Towers overlooking the beach, pier and the Gulf of Mexico provided a picturesque setting for the event.
For Orbitz, this was the first time Panama City Beach was featured in a media event and Waterstone Resorts was proud to offer Calypso Resort & Towers as the perfect backdrop. At Waterstone Resorts we are committed to positioning Calypso Resort & Towers as one of the premier resort destinations on the beautiful beaches of Northwest Florida's Gulf Coast. A great vacation is on the horizon. (sm)
Waterstone Resorts is a family of independent, but related companies providing full service Vacation Rental, Annual Rental and Association Management services across Northwest Florida and Southwest Florida. Waterstone Resorts currently manages more than 1,100 homes and condominiums across ten offices in the locations of Destin, Panama City Beach, Bonita Springs, Captiva Island, Fort Myers, Naples and Sanibel Island, Florida. At Waterstone Resorts we are committed to providing the finest vacation accommodations in the best resort locations with an unmatched level of service to our Guests and Homeowners. Our Northwest Florida Reservations Center may be reached toll-free at (800) 207-8022. Our Southwest Florida Reservations Center may be reached toll-free at (877) 549-0028. All other business inquires, contact our administrative office at (800) 208-0150.
###