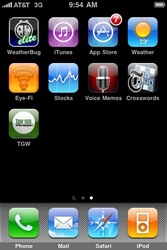 This easy-to-navigate application was innovated to meet the evolving demands of our customers.
Wichita, KS (Vocus) May 6, 2010
The Golf Warehouse®, Golf's #1 Online Retailer, is pleased to announce the perfect iPhone application for the golf course! Now, golf lovers searching for the latest golf club technology and highest quality golf equipment can quickly shop and buy directly from their Apple iPhone or iPod Touch device.
The Golf Warehouse, a Redcats USA brand, created this mobile golf application as part of a multi-pronged approach to provide its valued customers with the most innovative and seamless purchasing platforms. This first-ever iPhone application for both The Golf Warehouse and Redcats USA provides its valued customers with a simple mobile solution for researching and purchasing golf equipment.
"We see the majority of our business coming via e-transactions, which means we need to remain ahead of the technology curve," said Brad Wolansky, CEO of The Golf Warehouse®. "This easy-to-navigate application was innovated to meet the evolving demands of our customers."
During the first week of release, the application was downloaded more than 850 times. Already, sales through the valuable e-tool have been streaming in, which is a testament to the loyalty and tech-savviness of The Golf Warehouse's customers.
"We meet customers' demands every day by supplying the best products in golf," Wolansky said. "But meeting their demands on how they access it—now that's what sets us apart. This is an excellent springboard for our next plans to develop mobile web and then BlackBerry and Android apps."
The new application is available for download from Apple's iTunes and can be used on any iPhone, iPod Touch or iPad device. Users can simply search for TGW or The Golf Warehouse in iTunes and install like any other app.
Millions of golfers have been turning to TGW.com to improve their game since 1998—as the brand continues to respond to customer feedback by featuring the most innovative golf equipment and apparel for every level of golfer to improve their game. And now, it has the iPhone application, powered by Digby, to match.
About Redcats USA
Redcats USA is a dynamic, multi-channel, web-driven home-shopping leader, with numerous well-known brands in its portfolio: AVENUE®, Woman Within®, Jessica London®, Roaman's®, KingSize®, BrylaneHome® and BrylaneHome® Kitchen sold on OneStopPlus.com®, The Sportsman's Guide® and The Golf Warehouse®. Redcats USA offers a wide range of value and quality driven merchandise categories, including men's and women's plus-size apparel, home and lifestyle products, and sporting goods/outdoor gear. Redcats USA is a Redcats Group company.
About Redcats Group
Standing at the forefront of fashion, design and e-commerce, Redcats brings together 15 brands in home shopping : Avenue®, Woman Within®, Jessica London®, Roaman's®, KingSize®, BrylaneHome®, OneStopPlus.com®, The Sportsman's Guide®, The Golf Warehouse®, La Redoute, Vertbaudet, Cyrillus, Somewhere, Daxon and Ellos, present in 30 countries. Redcats generated 3.386 billion euros of sales in 2009, including 47% on Internet and employs approximately 16,000 associates. Redcats distribution network combines e-commerce web sites (more than 60) catalogues and stores (more than 600). Redcats is a PPR Company. For any further information: http://www.redcats.com
Contact Information
Pat Cross
Vice President, Corporate PR & Communications
Redcats USA
212-502-9315
###