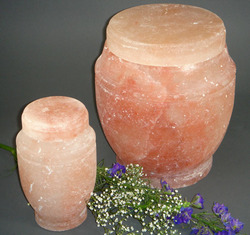 Choosing a cremation urn over traditional burial opens up opportunities to create loving tributes like memorial gardens, and allows family to fulfill the wishes of loved ones that want a truly green burial.
Goleta, CA (PRWEB) May 6, 2010 –-
When a loved one passes away, choosing what to do with their remains is a difficult and delicate decision; one where those left behind need to consider not only the wishes of the deceased, but also the impact it will have on the environment. Urns.com has found that more and more people are beginning to realize that their impact on the earth doesn't end after they pass away, and have developed eco friendly urns to meet this need.
As being kind to mother earth has become more popular, the harm that a traditional burial can cause is becoming much more obvious. The chemicals used in embalming stay in the earth for years and can be toxic to the environment around the burial site. In addition, overcrowding in cemeteries continues to be an issue, especially when expansion means destroying the eco system in the surrounding area.
"The beauty of the burial urn is that it's compact size and the lack of embalming chemicals makes it extremely eco friendly," says Urns.com owner Ruffo Miranda. "Choosing a cremation urn over traditional burial also opens up opportunities to create loving tributes like memorial gardens. In addition, our newer biodegradable urns allow those that wish to have a truly green burial to fulfill that final wish."
Their recently expanded eco friendly urn selection includes urns made from organic materials such as paper and wood pulp, cornstarch, and even carved straight from salt. These eco friendly urns, says Miranda, are designed to decompose naturally, with minimal impact on the environment. Some are even designed specifically for burial at sea. With this new, wider selection of 'green' urns, it's possible to move into the afterlife with the same care and reverence for the earth that guide your life now.
About Urns.com:
Absolute Wood Products founded Urns.com as a way to provide the highest quality cremation urns at the best value to people across the country. They are proud manufacturers of urns for ashes, pet urns, and cremation jewelry, along with their new line of biodegradable, eco-friendly urns. Urns.com pack and ship their urns quickly to ensure little or no disruption of any funeral preparations. They pride themselves in compassionate and caring service for their customers so that each one can have the most positive experience possible during their time of loss.
###