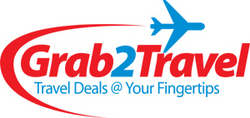 Grab2Travel.com lets visitors find the best rates through a new travel booking engine, including published travel deals from our travel partners.
Chicago, Illinois (PRWEB) May 10, 2010
Vaibhav Sevale, Founder of Grab2Travel.com, is proud to announce the launch of a travel booking engine, by signing the agreement with World Choice Travel, a division of Travelcoity. Grab2Travel.com is a cheap vacations deals website that helps travelers plan and book their travel trip easily.
We, the new travel booking engine, let visitors directly book hotels, flights, vacation packages, car rentals, cruises and attraction tickets through Grab2Travel.com. A new hotel booking section provides a full description of each hotel along with hotel pictures and reviews so that visitors can get enough information about the hotel before booking the hotel room. Grab2Travel guarantees that "Save Rate Hotels" deals are the best way to save on hotel room reservations. If website visitors find a lower rate on any other website for the same room and hotel, on the same dates, within 24 hours of hotel booking then Grab2Travel will match the price PLUS Grab2Travel will pay the visitors 10% of the price difference.
Website visitors will continue to find the latest travel deals from other travel merchants at Grab2Travel. Going forward, weekly top travel deals newsletter subscribers will receive special handpicked deals from Grab2Travel as well as other partner travel sites. Grab2Travel.com also features a "Travel Blog" that covers topics such as travel destination deals, attractions and travel tips.
"Grab2Travel cares about our website visitor's saving, and that's why even though we have our own booking engine, we will continue to publish travel deals from our other partner travel sites," said Vaibhav, who started planning the idea of Grab2Travel.com in 2004 while he was in Southern Polytechnic State University, Marietta, Georgia.
Vaibhav added, "Our mission is to assist travelers in finding the best travel deals and travel information available. Vacation deals and tips on Grab2Travel give vacationers an opportunity to save money and get more information on travel destinations."
About Grab2Travel.com
Grab2Travel.com introduces visitors to a travel booking engine and travel deals to help them plan travel trips easily. Grab2Travel publishes handpicked travel deals and provides an option to book travel reservations by website visitors. Grab2Travel.com publishes handpicked "weekly top travel deals" newsletter to subscribers, which contain Grab2Travel's deals as well as other travel partner's deals. Partners include Orbitz, Expedia, Travelocity, Priceline, Hotels.com, FunJet Vacations, CheapCaribbean.com and many other online travel merchants. For more information please visit http://www.grab2travel.com.
###