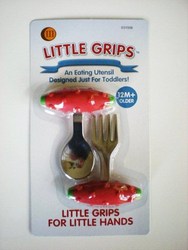 "I just knew there had to be a better solution," says Mr. Swierski, inventor of Little Grips.
Charlotte, NC (PRWEB) May 6, 2010
Scott Swierski, was sitting at the dinner table and noticed how his daughter struggled to feed herself. He tinkered in his garage for a solution and came up with the Little Grips design. Little Grips is a patent pending utensil specifically designed for toddlers, and empowers young ones to feed themselves, and save parents the mess involved during meal time.
"I just knew there had to be a better solution," says Mr. Swierski, inventor of Little Grips. "My wife and I looked for children's utensils but they were just smaller versions of adult utensils and didn't solve the issue of relying on the finer muscles of the fingers. Children just haven't developed that coordination yet."
After testing various prototypes and selling a few over the Internet, Mr. Swierski felt he had a hit. "We had great comments from parents that tried it with their children and that's when we realized we were on the right track."
Little Grips has a number of customer testimonials.
Watching my daughter eat all by herself and to see the accomplishment in her eyes-priceless!
Dawn - Charlotte, NC
I'm sorry this wasn't available for my oldest child; feeding time would have been a breeze.
Amber - Chicago, IL
My son will not use any other fork or spoon, only his Little Grips!
Joshua - Des Moines, IA
Little Grips is very affordable at a mere $10.95 plus shipping and handling, made from durable, high quality plastic and stainless steel, with rounded edges and has a natural design that fits comfortably in a child's hand. It"s "no choke" safety design keeps children safe and it's dishwasher safe. You can order Little Grips online at http://www.littlegrips.com .
About Idea Blvd Inc.
Founded in 2007, Idea Blvd Inc. was started by entrepreneur Scott Swierski, whose vision of creating helpful tools for families continues to spur new ideas and product extensions. The company plans to develop more product ideas and help other innovators develop and sell their products.
###